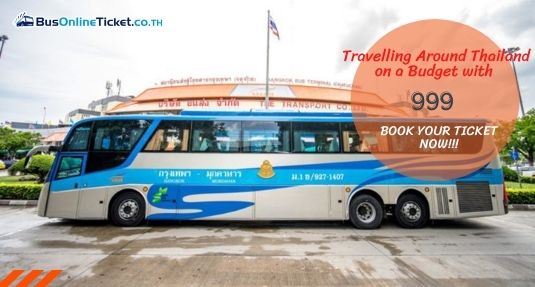 Bus 999 Provide Comprehensive Bus Services Across Thailand
Hello Bus 999, Welcome On Broad! We're so thrilled to have Bus 999 joining BusOnlineTicket.co.th to provide online booking service for their tickets. Taking Bus 999 is one of a popular and budget travel option to get around Thailand. Through the partnership between Bus 999 and BusOnlineTicket.co.th, everyone now can enjoy the convenience of 24/7 online access to book Government Bus 999 tickets without hassle at BusOnlineTicket.co.th.
Bus 999 is a well-known transport company operated by Thailand government. The company commonly known as 999 Bus, Government Bus 999 and The Transport Co., Ltd., by the local people. Bus 999 operates bus services covering Thailand's Northeastern, Southern, Eastern and Northern region. Moreover, they also provide international routes between Thailand and its neighbouring countries, Laos and Cambodia.
The popular domestic routes provided by Bus 999 are as follow:
…and many more.
As for international routes, the popular routes provided by Bus 999 are as follow:
Bus from Bangkok to Pakse
Bus from Bangkok to Poipet
…and many more.
There are common 4 class types of buses operated by Bus 999 to satisfy passengers' needs: VIP Bus, First Class Bus, Second Class Bus and International Bus. All the buses are well-maintained, comfortable and fully equipped with air-conditioned and reclining seats. As compared to other types of buses, VIP Bus with higher fare is more spacious and comfortable.
Book your bus ticket at BusOnlineTicket.co.th and travel comfortably with Bus 999 now. BusOnlineTicket.co.th is a user-friendly online ticketing site to book your Bus 999bus ticket in a matter of minutes. Instant booking confirmation at BusOnlineTicket.co.th upon successful payment.