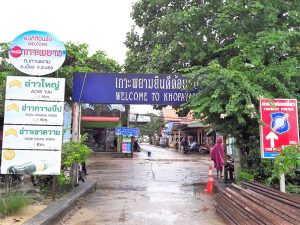 After travelling from Bangkok to Ranong, we spent our days in Ranong trekking to waterfalls, soaking in the theurapetic hot spring waters, and indulging in fresh seafood. It was a wonderful vacation for us! To keep things interesting, we decided to have a change in environment. So, off to the islands!
Koh Phayam is a large island located close to the province of Ranong and the island of Koh Chang. Activities include fishing along the coast, and sightseeing while cycling. More importantly, being scuba diving lovers, Koh Phayam is the perfect place for us to view beautiful healthy coral reefs! It didn't take us long to make our final decision to visit Koh Phayam. Here is the summary of our journey to Koh Phayam from Ranong :
| | |
| --- | --- |
| i. | Collect the speedboat tickets |
| ii. | Board the speedboat at Koh Phayam Pier |
| iii. | Arrival in Koh Phayam |
Collect the speedboat tickets

1.
We booked our speedboat tickets from Ranong to Koh Phayam and went to Surathat Speedboats' office to collect our tickets. The ticket office is located at Koh Phayam Pier in Bang Rin, Amphoe Mueang Ranong. It should not be hard to locate this building as it is purple in colour. Furthermore, all of Ranong's locals are well acquainted with this speedboat operator.

Board the speedboat

2.
After collecting our tickets, we walked towards the pier to wait for our speedboat to arrive.
3.
The staff assisted us with loading our bags and boarding the speedboat. Life vests are provided in the speedboat for passengers.
4.
Once everyone has boarded the speedboat, we left for Koh Phayam. As the speedboat travels at a higher speed than a ferry or boat, the journey can get a bit bumpy. Those prone to seasickness are highly encouraged to take medication before embarking on the journey!

Arrival in Koh Phayam

5.
The journey from Ranong to Koh Phayam takes about an hour. We arrived at Koh Phayam on time, even though we encountered rain while travelling. At Koh Phayam's pier, there are sam lors (modified motorcycles) and motorcycle taxis waiting to take you to your destination. Alternatively, you may choose to walk the bridge on foot to get to Koh Phayam.
6.
Finally, we have arrived on Koh Phayam! Most of the local population grow cashew nuts on the island. Be sure to try Ranong's indigenous product→ available baked!