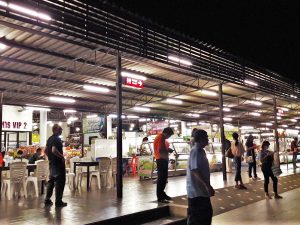 When we travelled from Bangkok to Ranong, we were very pleased with Choke Anan Tour. For our journey back from Ranong to Bangkok, we decided to once again book tickets with Choke Anan Tour. This time round, we decided to try their VIP 32 bus. Here is the summary of our journey :
| | |
| --- | --- |
| i. | Book bus tickets at Choke Anan Tour's Ranong Office |
| ii. | Board the bus |
| iii. | Break for dinner at rest stop |
| iv. | Arrive at Bangkok |
Book bus tickets at Choke Anan Tour's Ranong Office

1.
We booked and collected our Ranong to Bangkok bus tickets at Choke Anan Tour's Ranong Office. We paid 470 THB per person for seats on the VIP 32 bus. Although our departure was in evening, the buses are already parked and on standby outside the office.

Board the bus

2.
30 minutes before departure, we returned to the Choke Anan Tour office for boarding. We identified the correct bus and handed our bags to the staff to load into the luggage compartment. Although there were many other passengers, the staff remained professional and calm, offering us genuine smiles and greetings.
3.
As we boarded the bus, a stewardess checked our bus tickets and directed us to the correct seats. This VIP 32 bus did not have the personal entertainment system like the VIP 24 bus. Instead, there are two televisions sets→ one at the front, and one in the middle→ for passengers to watch together.
4.
However, the seats remain to be just as comfortable and spacious as the VIP 24 bus, despite having a 2+2 seating arrangement. We were also each given a sandwich, a bottle of water, and a packet of soymilk→ exactly the same as the VIP 24 bus. The toilet on-board the bus was extremely clean and well-maintained.

Break for dinner at rest stop

5.
About 4 hours into the journey, we made a rest stop for about 20-30 minutes. This rest stop is extremely large, with many different types of food products and beverages being sold.
6.
There was an announcement to invite all Choke Anan Tour's VIP passengers to have dinner, compliments of Choke Anan Tour. Using our bus tickets, we exchanged for entry into the VIP section of the restaurant. There were plenty of dishes to choose from, and the porridge can be refilled to your heart's content!
7.
After dinner, everyone rushed to use the restrooms. Initially, I was worried that we will not make it back to the bus on time. Many other tour buses also stopped here and we may have to queue for a long time to use the restrooms. However, I was pleasantly surprised! The restrooms, separated by gender, each occupied a large section and there were more than sufficient cubicles for everyone.

Arrive at Bangkok

8.
About 30 minutes before arriving at Bangkok, we were each given a moist towelette to freshen up. Hot coffee and tea are also available. The bus journey from Ranong to Bangkok took about 9 hours. We alighted the bus at Southern Bangkok Bus Terminal (Sai Tai Mai).

However, there is another drop-off point at Bangkok Bus Terminal (Mo Chit 2). Passengers have the option of continuing their journey there with Choke Anan Tour. This is extremely convenient, as other buses from Ranong will only stop at Sai Tai Mai.