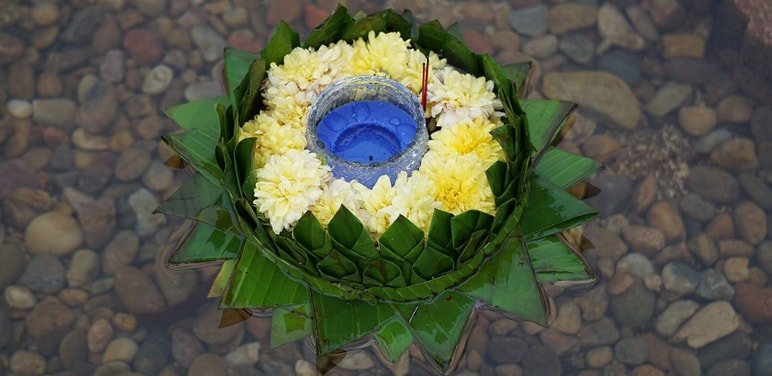 What is Loy Krathong?
Loy Krathong (also spelled Loi Krathong or Loi Kratong) is a festival widely celebrated in Thailand annually with participations from millions of Thai people, and even tourists who come to join and experience the festival. The festival is one of the top attractions that draw people from all over the world to come to Thailand.
The name Loy Krathong means, "to float a basket" and that is exactly what you will be doing if you join the Loy Krathong festival.
Yes, you can join Loy Krathong Festival even if you are not from Thai, In fact, everyone can take part in Loy Krathong Festival. You only have to make or buy a small (or big) raft or a basket (Thai call it Krathong) – a small lotus-shaped boats, go the nearest river or canal or anywhere with water, light the candle inside the Krathong and release the Krathong to the water.
---
Thailand in November – Loy Krathong 2017
The date for Loy Krathong changes every year because the celebration follows Lunar calendar. The celebration of Loy Krathong take place in the evening of the full moon of the 12th month in the traditional Thai lunar calendar. Usually, Loy Krathong Festival occurs in Thailand in November.
In 2017, Loy Krathong will take place in Friday, 3rd November 2017. Some places might celebrate it more than one day with concerts, beauty contests and performances.
Loy Krathong is not a public holiday. Therefore, locals will usually celebrate Loy Krathong in the evening after work, if it falls on weekdays. Fortunately, this year Loy Krathong will be on Friday so the locals don't have to worry much about going to school or work the next day.
---
Activities During Loy Krathong
There are many things to do during Loy Krathong. You can enjoy the concerts and performances by the locals especially if you go to those famous locations for Loy Krathong. Free yourself from worries, dance away, and party with the locals. The night scene will be very beautiful with Krathongs floating on the river and lanterns hanging everywhere.
They also have beauty contest known as "Nophamat Queen Content" and Krathong creation contest. Even if you don't want to join, watching the contest will be just as fun.
Loy Krathong Festival also attracts many photographers to capture the wonderful and remarkable views and the beautiful moments of the locals and tourists that come together to celebrate it.
---
Background & Local Beliefs
It is quite unclear how Loy Krathong began and the purpose of celebrating it. Stories among locals tell that Loy Krathong was first celebrated in Thailand during Sukhothai era in the 13th Century.
There are claims that the traditions rooted from Hindu rituals and there are sayings that the festival is related to Buddhism. However, people in Thailand celebrates Loy Krathong generally to "send away all the bad and negative things in life" and to thanks the water spirits, known as "Mae Khongka" (Mother of Waters) after the raining season for the blessings of water supplies for the plantations.
There are also beliefs that if the Krathong floats away from the owner, it means good luck for the owner and if it comes back to the shore, it means the owner will have difficulties for the coming year. The people also put clipped nails or hair strands as a symbol of letting go of the past sins. Some would also put coins in the Krathong for merits.
---
Best Places to Celebrate Loy Krathong & Transportation
Chiang Mai
Yi Peng – Thailand Lantern Festival in the Northern Part of Thailand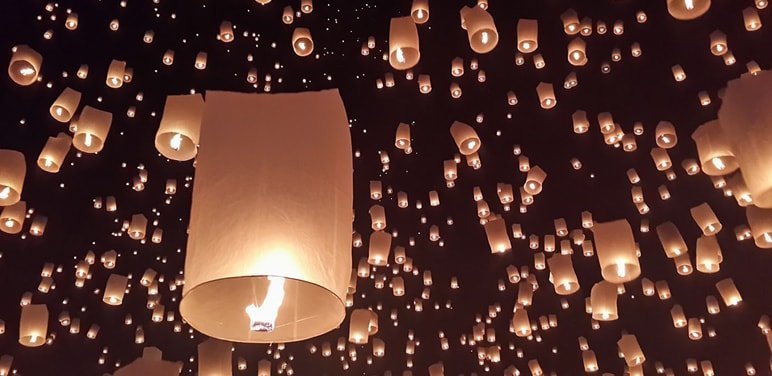 Ask anyone and they would suggest you go to Chiang Mai for the best and exciting experience of Loy Krathong. Although celebrated on the same day, Loy Krathong in Chiang Mai is called Yi Peng or Yee Peng; means "floating lanterns". Yi Peng is also known as Thailand Lantern Festival. Besides Chiang Mai, other North provinces like Chiang Rai and Mae Hong Son also celebrates Yi Peng instead of Loy Krathong.
What's so special about Yi Peng Festival is, instead of releasing Krathong to the river, you get to light up a lantern (called khom loi or khom lui) and release it to the skies. Since the Lantern Festival in Thailand takes place at night, the thousands of floating lanterns released to the skies create an astonishing sight that you should definitely see once in a lifetime.
Chiang Mai Lantern Festival is held in the city from Thae Pae Gate to Ping River. Narawat Bridge in Mae Ping or Ping River is where you should go if you wish to experience the best out of Yi Peng Festival in Chiang Mai.
Another famous floating lantern activity is in Mae Jo University but it is not a free event. In fact, the floating lantern activity in Mae Jo University is actually not part of Yi Peng Festival but a separate event organized by another organization. Nonetheless, people especially the tourist do not mind to pay for the tickets because of the spectacular sight they could experience.
---
Bus and Train to Chiang Mai
You can go to Chiang Mai by plane, train or bus. However, flight tickets to Chiang Mai should be very expensive around this date. Alternatively, you can take bus or train to Chiang Mai. Bus and train tickets to Chiang Mai can be booked online on our website. You can book tickets from Bangkok Busline, GreenBus, Thai Railway and many more operators.
Usually, bus tickets are open for booking three months in advance while train tickets booking opens for the whole month of the respective months.
Note: You can bookmark this page and book your tickets later.
Check availability for bus tickets to Chiang Mai »
Check availability for train tickets to Chiang Mai »
Bangkok
Bangkok, the capital city of Thailand will usually be extra crowded during Loy Krathong. Although Loy Krathong is not a public holiday, people still celebrate the festival gloriously. It's also more convenient for tourists and foreigners as there is more direct flight to Bangkok compared to Chiang Mai from other countries.
The main river in Bangkok is the Chao Phraya River so the festival will mostly be held alongside the river. The temples nearby the river such as Wat Arun and Wat Rakang Kositaram on the Thonburi are the target locations for many locals and tourist.
Public transportation nearby these places can be very packed so plan well if you wish to travel to have a different experience of Loy Krathong in different places.
Check availability for bus tickets to Bangkok »
Sukhothai
Sukhothai is known for its historical value and the tale tells the story that Loy Krathong originates from the old Sukhothai era. In Sukhothai, biggest celebration of Loy Krathong is held in Sukhothai Historical Park.
Flight to Sukhothai is not convenient because Sukhothai Airport is located far away from Sukhothai Historical Park. The flight schedule is also limited. Meanwhile, train to Sukhothai does not exist, instead, people who wish to take train have to stop at Phitsanulok and take the bus from Phitsanulok train station to Sukhothai.
The best way to go to Sukhothai is by bus. Bus to Sukhothai usually terminates in Sukhothai Bus Terminal in New Sukhothai City and there are always shuttle buses from New Sukhothai City to Sukhothai Historical Park.
Check availability for bus tickets to Sukhothai »
Tak
Tak Province celebrates Loy Krathong for 6 days. They have a slightly different name, which is Loy Krathong Sai Festival, and they have slightly different customs compared to the other parts of Thailand. The first Krathong is a large lotus shape Krathong followed by a thread of small Krathongs and ends with another large Krathong.
The Krathongs in Tak are made from coconut shell and they are connected to each other creating a thread of Krathongs released into the river one after another. From a distance, the Krathongs becomes a beautiful long chain of bright glittering lights.
Apart from Loy Krathong Sai, there is also 'Krathong Sai Lai Prathip Phan Duang', a contest to win His Majesty the King's Trophy, musical entertainments, and fireworks.
---
Going to Tak
You can go to Tak by flight or bus. However, flight to Tak should be very expensive around those dates and there are not many flight schedules going to Tak.
Taking the bus to Tak is highly recommended because Tak Bus Station is located closer to the Ping River where the festival takes place. Bus to Tak from Pattaya, Chachoengsao, Chonburi, Nakhon Sawan, Rayong, Khon Kaen, Kamphaeng Phet and Kalasin is available for online booking at BusOnlineTicket.co.th.