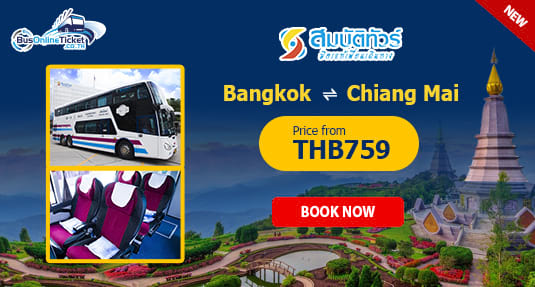 Sombat Tour Bus Service Between Bangkok and Chiang Mai
We would like to express our warmest welcome to Sombat Tour for joining BusOnlineTicket.co.th. Sombat Tour has joined BusOnlineTicket.co.th to launch their online ticket booking service to bring the greatest convenience to our customers. Through this partnership, we are about to embark on a journey together to deliver excellent quality of service to our customers.
Sombat Tour is a reputable public transportation service provider in Thailand. They offer an excellent service with the best quality in Thailand in order to meet with the international standard. The services provided by Sombat Tour are bus service between many top locations in Thailand such as Bangkok, Chiang Mai, Hua Hin, Koh Samui, Surat Thani, Surin, Ranong and many more.
The most popular bus routes provided by Sombat Tour include bus service from Bangkok to Chiang Mai and from Chiang Mai to Bangkok. The boarding and arrival point in Bangkok is located at Bangkok Morchit Bus Terminal while the boarding and arrival point in Chiang Mai is located at Chiang Mai Arcade Bus Terminal. The bus fare between Bangkok and Chiang Mai starts from THB759.
Book your bus tickets online with BusOnlineTicket.co.th and discover the beauty of Thailand with Sombat Tour today! Due to the limited schedules available for these bus services, passengers are advised to book their bus ticket online in advance to avoid disappointment. Confirmation of tickets is instant in BusOnlineTicket.co.th.