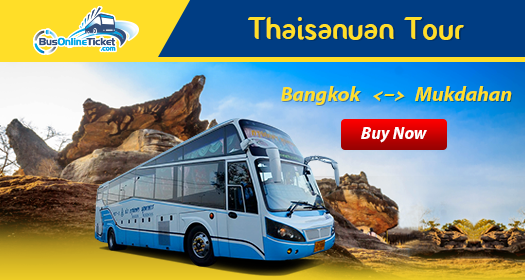 Thaisanuan Tour has officially listed at BusOnlineTicket.co.th, offering online ticket booking services for the route between Bangkok and Mukdahan.
Thaisanuan Tour is one of the best bus service providers in Thailand offering bus from Bangkok to Mukdahan. The bus trip duration is approximately 11 hours between Bangkok and Mukdahan. There are 2 bus types offered by Thaisanuan Tour: Express Bus and VIP Bus. Both bus types are air-conditioned, and have comfortable seats, an on-board toilet, and a luggage storage area. Food and drinks are also provided. In addition, Thaisanuan Tour's VIP Bus is equipped with a television in the bus.
The bus schedule from Bangkok to Mukdahan offered by Thaisanuan Tour is 08:30, 19:00, 21:05, and 21:20 with bus fare of about THB600 per pax for VIP Bus and about THB500 per pax for Express Bus. As for the return trip, bus from Mukdahan to Bangkok, the bus schedule is 08:45, 18:00, and 20:15 with a similar bus fare as offered for bus from Bangkok to Mukdahan. The bus schedule is subjected to changes at the discretion of Thaisanuan Tour.
Passengers can now enjoy the convenience of booking the Thaisanuan Tour bus tickets via online from BusOnlineTicket.co.th today!