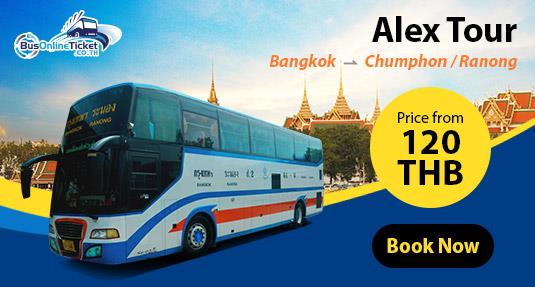 Shopping spree in the city or enjoy the tranquil skies at the beach? If you are struggling to select one of these activities for your vacation, we have a solution for you as we are glad to announce that Alex Tour has newly joined BusOnlineTicket.co.th. Being part of the bus fleet, Alex Tour→ a bus company based in Southern Bangkok Bus Terminal (Sai Tai Mai) that travels from Bangkok to Chumphon and Bangkok to Ranong, both from a city to a beach allowing you to enjoy the best of both worlds.
Specialising in the Bangkok–Chumphon–Ranong route, Alex Tour's bus service has earned its trust and confidence various strengths. All the drivers at Alex Tour possess at least 10 years of experience and only experienced drivers are recruited to strictly ensure the safety of its passengers. In the aspect of hygiene for a comfortable bus ride, its bus fleet is well taken care of and they are ensured to be cleaned at the last departure point especially the toilet, which would be sanitised at the departure point of every trip. Furthering on instilling comfort, Alex Tour provides blanket to keep its passengers in warmth while travelling the long-hour journey while other buses that travel the same route do not provide blankets.
Besides providing blankets, there are many amenities of the buses that Alex Tour owns. Each bus is a 40-seater that offers comfortable space within the confined ride while the seats can be tilted for a comfortable sitting position. The buses are equipped with air conditioner and this is when the blankets come in great use. There are also luggage compartments for passengers to stow their luggage to prevent congesting the seat in discomfort.
There are various excitements on the beaches of Chumphon and Ranong that are worth anticipated for. At Chumphon, visitors can take the ferry to the islands nearby such as Koh Tao for diving adventure and Koh Pha Ngan for its monthly full moon party while at Ranong, visitors can explore the neighbouring islands of Koh Phayam for beach-hopping and Koh Chang for scuba-diving but be cautious as to not confuse Koh Chang with the Koh Chang of Trat province. So, get ready for the sunny holiday at BusOnlineTicket.co.th now!