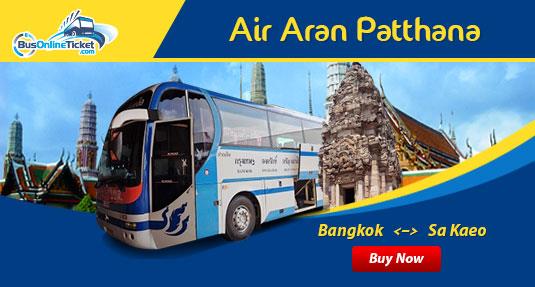 Air Aran Patthana is a well-known bus operator that is based in Bangkok, located on Soi Paholyothin 19/1 Paholyothin Road. They provides 45-seats express bus service, travelling to Bangkok, Sa Kaeo, Prachinburi, and Nakhon Nayok daily.
Air Aran Patthana's coaches are air-conditioned, and have seats with sufficient space for passengers to physically accommodate their legs. The coaches also have on-board toilet facilities so that passengers need not specially request the driver to stop during the travel journey.
The most popular Air Aran Patthana's air-conditioned express bus is from Bangkok to Sa Kaeo or bus from Sa Kaeo to Bangkok. The departure point is conveniently located at Eastern Bangkok Bus Terminal (Ekamai) and Bangkok Bus Terminal (Mo Chit 2) to Sa Kaeo Bus Terminal. Sa Kaeo is a province in eastern Thailand. It is about 200km from Bangkok, or about 3 hours' away. The bus fare between Bangkok and Sa Kaeo is about THB 210. There are approximately 10 bus trips daily between Bangkok and Sa Kaeo starting as early as 03:30AM, to 6:30PM in the evening.
The bus routes offered by Air Aran Patthana are as follows:
Bangkok ↔ Sa Kaeo
Bangkok ↔ Nakhon Nayok
Bangkok ↔ Prachinburi
Sa Kaeo ↔ Prachinburi
Sa Kaeo ↔ Nakhon Nayok
Check out more about Air Aran Patthana and book your bus tickets with BusOnlineTicket.co.th today!