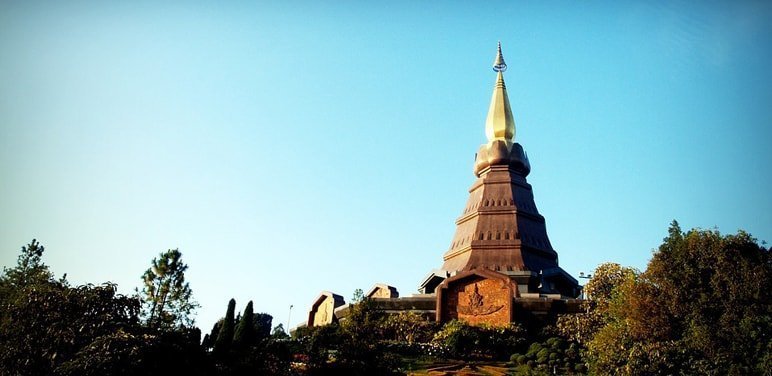 Doi Inthanon, located in the northern part of Thailand in Chiang Mai with estimated height of 8,415 ft, is the highest mountain in Thailand. Due to the abundant species of floras and faunas found in the nature in Doi Inthanon, the mountain is one of the protected areas in Thailand.
Previously, Doi Inthanon was known as Doi Luang, means "big mountain" or Doi Ang Ka, meaning "crow's pond top". The name then was changed to Doi Inthanon in honour of King Inthawichayanon after he passed away.
King Inthawichayanon –one of the kings of Chiang Mai, was concern about the forests in the north and wished to preserve the country's treasured nature. He asked for his remains to be placed in Doi Luang after his death and the name of the mountain changed to Doi Inthanon.
---
Why Go to Doi Inthanon?
If you are a nature lover or fancy rare species of birds, even better, if you need a relaxing and revitalising break from the city, you should definitely come and visit Doi Inthanon National Park to enjoy what it has to offer.
---
Best Time to Visit Doi Inthanon
The weather of the mountainous regions in the northern part of Thailand is usually cold with average temperature ranging from 10-12 °C. However, it can get particularly extra cold during winter especially in January as the temperature could drop below 0°C.
You can visit Doi Inthanon throughout the year, but the best time to go to Doi Inthanon depends on your interest. The dry season is from December to March and the rainy season is from April to November. Expect heavier rain from July to October (Monsoon season) so it is not recommended to travel during this time. However, if you decide to travel during monsoon season, we advise you to prepare all necessities such as umbrella, raincoat and boots.
May to November is the best time to go if you are looking forward to seeing the waterfalls at its best. The water flow would be more powerful in the rainy season.
In December to February, you'll get to see the wild flowers blooming if you follow the nature trails.
For bird lovers, it is said that November to March is the best time to see the birds as there are migrating birds as well. But different seasons offers a different type of birds so many bird enthusiast would visit Doi Inthanon several times in different seasons.
---
Entrance Point & Entrance Fee for Doi Inthanon National Park
Doi Inthanon is located quite far away from the city centre of Chiang Mai, about 1-2 hour driving distance. The main entrance to Doi Inthanon National Park is situated on Road 1009; look for Check Point 1 Km. 8 on Google Maps. This is where you buy your Doi Inthanon National Park Entrance Ticket.
Doi Inthanon National Park Entrance Fee
Foreigner : 300 THB (Adult) | 150 THB (Child)
Local : 50 THB (Adult) | 20 THB (Child)
Car/Van : 30 THB
Motorcycle : 20 THB
Find out how to Go to Chiang Mai »
---
Attractions in Doi Inthanon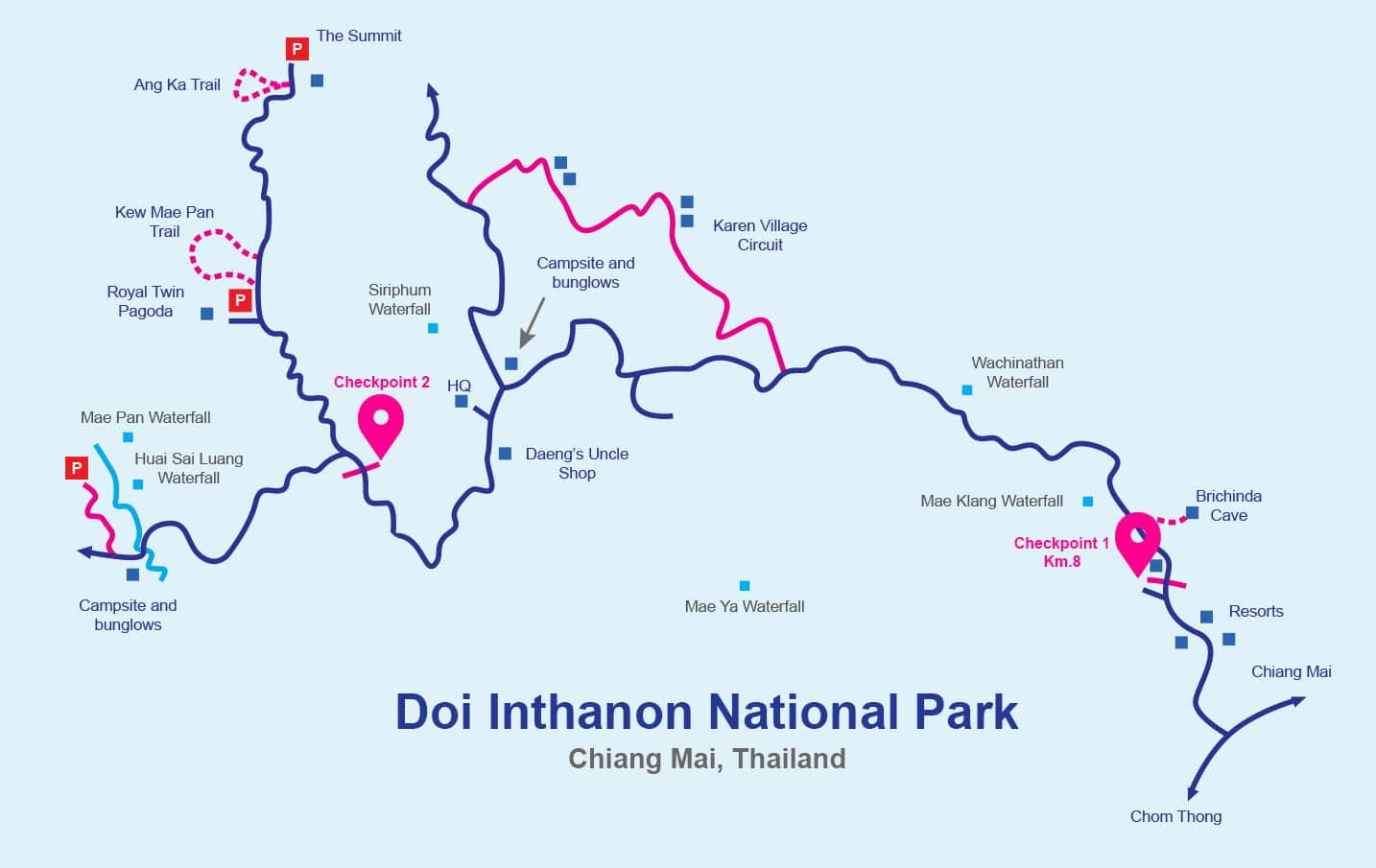 If you visit Doi Inthanon, these are the attractions that you should definitely go and visit:
The Waterfalls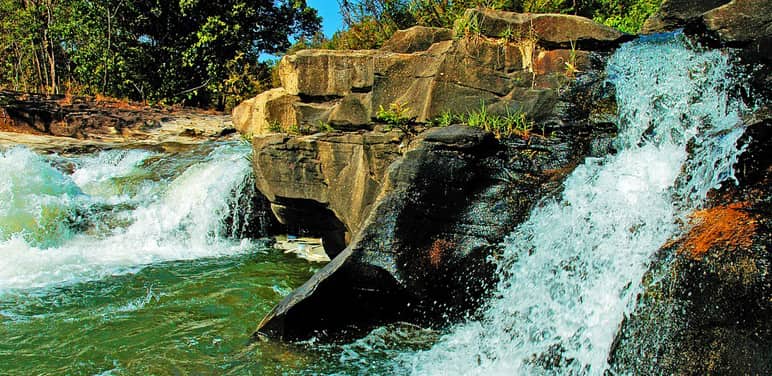 Doi Inthanon owns many beautiful waterfalls. You can enjoy the view, play in the water or go picnic beside the waterfall. Here is the list of waterfalls found in Doi Inthanon:
Mae Ya Waterfall
With the water falling from the height of 40m, Mae Ya Waterfall is probably one of the best waterfalls you can find in Thailand, located in Chom Thong District, Chiang Mai. It was once the tallest waterfall in Thailand before the discovery of Thi Lo Su waterfall in Tak Province. The magnificent view that Mae Ya Waterfall has to offer attracts photographers to come and visit the waterfall for a photoshoot.
Mae Ya Waterfall is a part of the Doi Inthanon National Park so you need an Entrance Ticket to enter the area. You can purchase the entrance ticket at Mae Ya Waterfall Checkpoint. If you already purchase your ticket, you can just show the ticket to the counter.
After passing the checkpoint, go further following the road for about 10 minutes and you will reach the parking spot in an open area. You will find few shops selling foods too. From here, it is an easy 0.6 km walk to the waterfall.
Mae Klang Waterfall
Mae Klang Waterfall has an estimated height of 30m and it is probably the most visited waterfall in Doi Inthanon. The location is a great picnic spot and you can buy plenty of foods from the stalls at the entrance to the fall.
Mae Klang Waterfall is located to the east of Mae Ya Waterfall. The road to Mae Klang Waterfall is a branch of the road going up to Doi Inthanon National Park. Albeit, the signboard to exit to Mae Klang Waterfall is in Thai so it is better to have a GPS if you are driving by yourself without a tour guide.
Wachirathan Falls
Wachirathan (also spelt Vachirathan) is also a famous waterfall in Doi Inthanon because it is very easily accessible from the main road going up to the summit of Doi Inthanon from Chiang Mai. If you are from Mae Hong Son, go towards the east (turn right after Road 1192) passing through Doi Inthanon National Park Check Point 2. The waterfall is located just beside the parking spot so it is very convenient to visit.
People describe Wachirathan Falls as powerful and voluminous, especially during raining season. The name Wachirathan means Diamond Creek so it is a diamond creek falls. The water falls from the height of 60-80m producing sprays that look like rain, hence, creating rainbows at the lower part of the waterfall.
This impressive waterfall also attracts many photographers but do note to bring a protective cover for your cameras and gears especially if they are prone to water damage.
Siriphum Waterfall
Siriphum Waterfall is located nearby Doi Inthanon National Park HQ (Google Map: Royal Garden Sribhume). The location is actually just along the way up to the summit from the main entrance at the Mong Khun Klang village. Unique point of Siriphum Waterfall is that you can view the impressively tall waterfall from a distance and see it disappears into the forest.
Previously, the waterfall was called Lao Lee Waterfall. Later, Jakthong Thongyai; the former Minister of Agriculture and Cooperatives, renamed the waterfall after Queen Sirikit and King Bhumibol. That is how Siriphum Waterfall got its current name.
* Do you know?
Waterfall is called
Namtok
in Thailand.
Doi Inthanon Summit: Highest Point in Thailand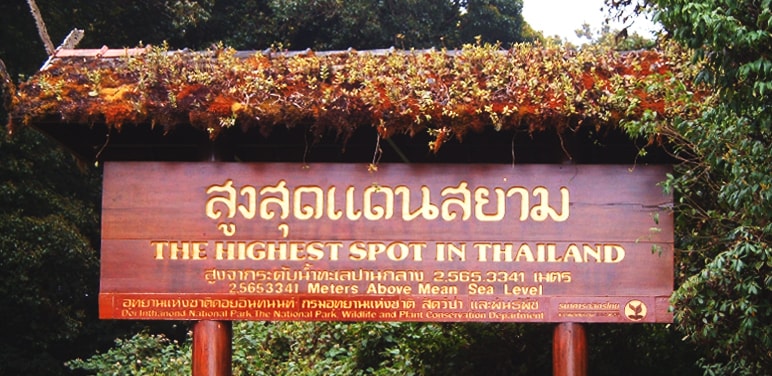 Doi Inthanon summit is one of the Chiang Mai Thailand points of interest. Standing tall with an elevation up to 2,565 metres, many locals and tourists love to go high up the mountain and see Thailand from the top of the country. After all, Doi Inthanon is also known as "The Roof of Thailand".
The road to Doi Inthanon summit is paved and in a good condition. You will also be guided by the signboards on the route in the national park. The summit of Doi Inthanon offers a great photography opportunity for amazing and remarkable pictures.
The Cave
Brichinda Cave
Brichinda cave is a limestone cave with a huge entrance featuring beautiful stalactites and stalagmites naturally decorating the space. The second chamber of the cave is open to the sky so the view from inside the cave can become exceptionally astonishing when the sunlight enters the cave.
The location of Brichinda Cave is just around 350 meters away from the Check Point 1 Km. 8. You will find a small branch of the road on your right that leads to the cave (Google ถ้ำบริจินดา on Google Maps). However, to reach Brichinda Cave it takes around 1.5 km walk from the main road. If you do not mind to walk, go visit Brichinda cave!
The Royal Twin Pagodas
The Royal Twin Pagodas at the top of Doi Inthanon is rather a famous spot for both locals and tourists. The two impressive pagodas (also called chedi) was built by the Thai Air Force to commemorates the 60th birthday of the King Phra Mahathat Naphamethanidon and Queen Phra Maha Dhatu Naphapholphumisiri.
It is located closer to the summit so you can imagine how majestic these tall structures stand on the mountain. Many locals come to pay respect to their beloved King and Queen. Meanwhile, the tourists thoroughly enjoy the view and take many pictures to keep as memories.
Even better, if you come in between March and June, most likely you will get to see the well-maintained garden beautifying the top of the mountain in Spring season.
Going to visit the Royal Twin Pagodas is easy as it is located on the main road going to the summit of Doi Inthanon. There are staircase and elevator provided if you want to view the pagodas from a closer position. A Buddha image sits inside the pagodas and the walls are decorated with beautiful arts.
---
Things to Do in Doi Inthanon
❖ Camping
Yes! You can go camping in Doi Inthanon. Moreover, the tents and camping gears are available for rent too so you don't have to worry about bringing so many things to experience camping in Doi Inthanon National Park.
There are two main campgrounds in Doi Inthanon. All of them are located nearby the Headquarter (Google Maps: Doi Inthanon National Park Headquarters).
• Guest House and Camp Ground
One of the campgrounds is located in Ban Khun Klang town (Google Maps: Guest House and Camp Ground, Chiang Mai). On you way up to the Doi Inthanon summit, turn right when you see the signboard says "Ban Khun Klang" on your right. You will reach the campground in just few minutes. The camping area in Guest House and Camp Ground is filled with pine trees and natures generally. Toilets and showers are available.
• Sureya Campground
Another famous campground is in the Doi Inthanon Royal Project (Google Maps: Sureya Campground). Sureya Campground is more of an open space with lesser trees compared to the previously mentioned campground. However, it is located on the hill so you get a stunning view of the mountainous area around you.
Food is available in the town and the HQ. Guest House and Camp Ground is closer to the town and the HQ compared to Sureya Campground.
Rental Service for Camping in Doi Inthanon
Tent for 2-3 people: 200-250 THB
Camping gears: Around 50 THB
| | |
| --- | --- |
| * | Some of the campground does not provide this rental service. Please check again and plan before you go. |
It is possible to reserve the tent area and the tents from the official website. We advise you to reserve the camping area in advance especially if you are going in December. December is a dry season in Doi Inthanon and camping is very famous in this month.
Meanwhile, if you don't prefer tents, you can also rent a small bungalow to stay in Doi Inthanon.
❖ Birdwatching
There are in total 362 birds recorded by The Center for Wildlife Research at Mahidol University. Best time to see the birds depends on what kind of birds you wish to see. Most of the birds are common in Doi Inthanon but there are also birds that come with seasons as they migrate from one place to another.
Inthanon Bird Center (also known as Uncle Daeng's Shop) located nearby the HQ is the place you should definitely go if you are an Ornithologist or bird lover. You can exchange and gain more information about the birds found in Doi Inthanon. There are also logbooks for the birds sightings to guide you better for your birdwatching activity. Furthermore, Uncle Daengs's Shop offers good, cheap meals and budget accommodation.
If you are a bird enthusiast, it is better to hire a guide for birdwatching so you can get better explanations and learn more about the birds in Doi Inthanon.
❖ Trekking
Trekking is another famous activity in Doi Inthanon National Park and there are two main popular trails called Kew Mae Pan Nature Trail and Ang Ka Nature Trail.
Kew Mae Pan Nature Trail
Closed on 1 June – 31 October (Please check before you go)
Cost: 200 THB
The entrance for Gew Mae Pan or Kew Mae Pan Nature Trail is on the roadside of the main road going up to Doi Inthanon summit. It is popular among locals and tourist. However, you need to pay 200 THB to take this trail and they will provide you with a local guide, although, most of them do not speak English.
The trail would consume a lot of time (maybe few hours) with around 3km distance and short breaks every now and then to properly enjoy the attractions that the nature trail has to offer.
If you need a preview, you will first walk through the forest on a pathway, pass by river streams and meet the scenic view of Mae Pan Waterfall. After an hour, the pathway will lead you to an open field where you get to enjoy the panoramic sight of the mountainous area around Doi Inthanon. The pathway in the open field is fenced so you do not have worry about the safety.
Another highlight of the Kew Mae Pan Nature Trail is the Red Rhododendron (R. delavayi), which is a type of flowering woody plants. Rhododendron is a plant that can be found in the highland area. The Red Rhododendron blooms from December through February. Best time to see the Red Rhododendron would probably be in January.
---
Ang Ka Nature Trail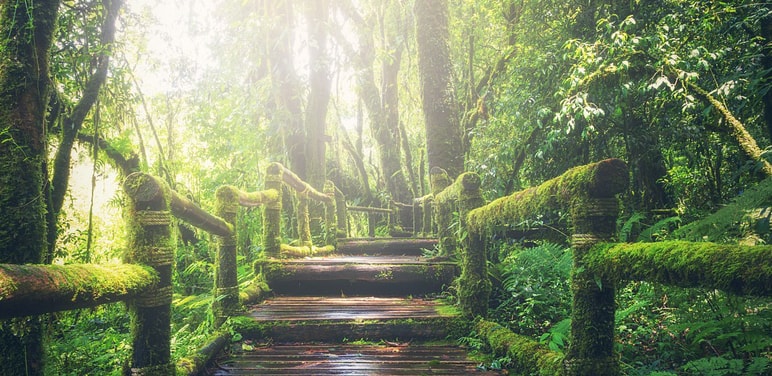 Open all year
Cost: Free
Ang Ka Nature Trail is located to the north of Kew Mae Pan Nature Trail, closer to the Doi Inthanon summit. The wooden trail was built and designed by a Canadian biologist, Mr Michael MacMillan Walls. The distance of the trail is around 360mm so it takes a shorter time to complete the trail (around 30 minutes).
Located at the top of a mountain, the wet and cold weather of Doi Inthanon makes the forest evergreen, lush and mossy. Going through the Ang Ka Nature Trail, you get to enjoy the freshest air, relax and perhaps "heal" your mind and body in nature.
Birdwatching is one of the reasons why people trek in Ang Ka Nature Trail. Birds reported seen along the Ang Ka Nature Trail includes Ashy-Throated Warbler, Green-Tailed Sunbird, Mrs Gould's Sunbird, Chestnut-Tailed Minla and Snowy-Browed Flycatcher.
---
How to Go to Doi Inthanon National Park, Chiang Mai?
Going to Chiang Mai
Flight to Chiang Mai
Chiang Mai has an airport so flight to Chiang Mai is possible. Chiang Mai International Airport caters for both domestic and international flights. If you are not from Thailand, it is possible to fly directly to Chiang Mai without going to Bangkok.
From Chiang Mai Airport to the city only takes few minutes of driving. You can use shuttle bus service, taxies, tuk tuk or songthaews to the city. Some of the hotels also provide free pickup service from the airport so you can check with the hotel first before you book your hotel.
---
Train to Chiang Mai
Train to Chiang Mai; especially train from Bangkok to Chiang Mai is a popular train route in Thailand. There are many places you can visit and things to do in Chiang Mai makes it one of the top tourist attractions in Thailand. Doi Inthanon should definitely be on your list to visit if you go to Chiang Mai.
---
Bus to Chiang Mai
Besides train, you can also go to Chiang Mai with express buses. In Chiang Mai, there are 3 bus terminals. Chiang Mai Bus Terminal 1 (Chang Phueak Bus Station) serves for local transportation within Chiang Mai.
For express bus to Chiang Mai, the bus will terminate either in Chiang Mai Bus Terminal 2 or in Ching Mai Bus Terminal 3 (Arcade Bus Station 3). Both terminals are located nearby each other, just across the road.
From Chiang Mai City to Doi Inthanon National Park
Since the attractions in Doi Inthanon National Park are scattered all around the mountain, it is best to go there with a tour guide or you can rent a car and drive by yourself.
There are many tour packages to Doi Inthanon online or you can just go to Chiang Mai and look for the tour packages in the city. Price ranges from 700-2000 THB, depends on the tour company and the itinerary. It is also advised to book a tour package that includes hotel pickup and hotel drop off so you don't need to worry about the transportation from and to your hotel.
Driving from Chiang Mai city to the Doi Inthanon Entrance Point could take up to 2 hours. You might need a full day trip to visit most of the attractions if not all.