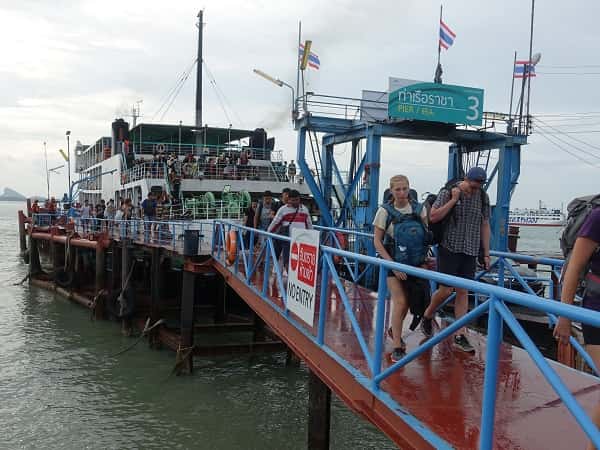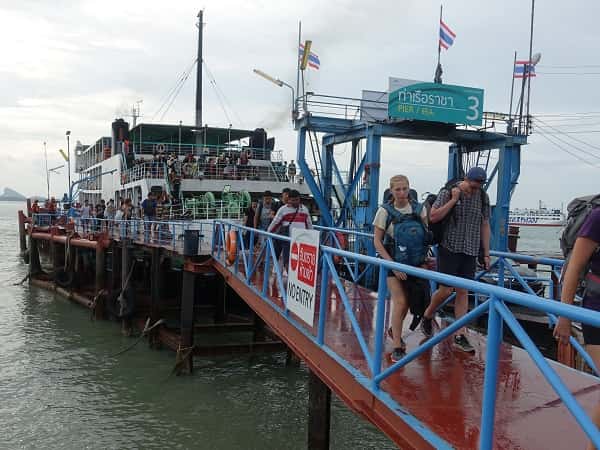 GENERAL INFORMATION
Donsak Pier is a well-known gateway to Koh Samui, Koh Tao and Koh Phangan. Donsak Pier is located in Surat Thani Province on Thailand's east coast, approximately 45 km away from Surat Thani Town. In Don Sak, there are few piers that offer many arrivals and departures for ferry and bus. Some of the popular piers are Donsak Ferry Pier, Raja Ferry Port Donsak and Lomprayah High Speed Ferry Boats Pier. The piers are located nearby each other in Don Sak.
In most of the cases, locals and tourists go to Donsak Pier to visit the three popular islands. The popularity of the islands in Surat Thani which offer many attractions that appeal to the locals and tourists make the piers crowded especially on weekends and public holidays. Additionally, visitors that wish to go for a holiday at Krabi or Phuket after visiting either one of these islands will also make a transfer at Donsak Pier.
DEPARTURE AND ARRIVAL
As there are several different piers at Don Sak, we advise you to confirm your destination to avoid going to the wrong pier. You will see the signboard name of the pier once you reach at the Donsak Pier.
Upon arriving at Donsak Pier, passengers that buy online ticket need to exchange their printed voucher to the actual ferry or bus ticket. Before boarding, passengers have to show their ticket first at the platform. There are staffs that will assist passengers to board the ferry or bus. You can buy your tickets online at BusOnlineTicket.co.th.
HOW TO GET TO DONSAK PIER?
Donsak Pier connects the land to the islands in Surat Thani. To reach Donsak Pier, you can take the bus, ferry, taxi or tuk-tuk depends on where you are from.
Tourists and locals from Koh Tao, Koh Phangan and Koh Samui can go to Surat Thani by using the bus and ferry service such as Songserm Ferry that will terminate at Donsak Pier. The duration will take around 3.5 to 5.0 hours depending on your origin location and the condition of the sea. BusOnlineTicket.co.th also offers bus + ferry service from and to Surat Thani Airport and Surat Thani Train Station.
Check the schedule for bus and ferry from Koh Tao to Surat Thani, Koh Phangan to Surat Thani and Koh Samui to Surat Thani.
People from Hat Yai can use the minibus or van to go to Raja Ferry Port Donsak Pier to go to Koh Samui. Ferry to Koh Samui from Donsak Pier might take around 1.5 to 2 hours depends on the weather condition.
Check the schedule for minivan, bus and ferry from Hat Yai to Koh Samui route.
To check for tickets availablity for more routes to Koh Tao, Koh Phangan and Koh Samui from Donsak Pier Surat Thani, visit BusOnlineTicket.co.th.
Meanwhile, from Surat Thani town, there are several public transport that go to Donsak Pier such as bus and taxi. There are also many tuk-tuk around the town and you can negotiate the fare. People from Surat Thani Airport or Surat Thani Train Station usually take bus to go to Donsak Pier.
AMENITIES
There are complete amenities at Donsak Pier, Surat Thani. There is a large car park area for those who drive to the pier to take the ferry. You can also find several ATM machines at the pier. People can buy drinks and snacks at the convenience store available at the pier. In addition, tourists can enjoy some refreshments and relax at the food stalls and cafe. There are comfortable outdoor and indoor waiting areas for the passengers to sit and relax. Passengers can buy tickets at the ticket office. Toilets are also available and they are well-maintained. Furthermore, there are songthaews, taxis and buses if you wish to go to Surat Thani Town from the pier.
TIPS
If you want to save your cost and time, book your ferry ticket online in advance from our official website, BusOnlineTicket.co.th. BusOnlineTicket.co.th is a secured online ticket booking portal for bus, train and ferry tickets in Thailand. The portal makes it easy for you to check schedule, ticket price and tickets availability online. For online booking, BusOnlineTicket.co.th offers various secured payment method to make the booking process easy for you. You can also save your time and cost of going to the counter to buy the ticket.
LOCATION OF DONSAK PIER, SURAT THANI
The address of Donsak Pier: Donsak District, Surat Thani, Thailand