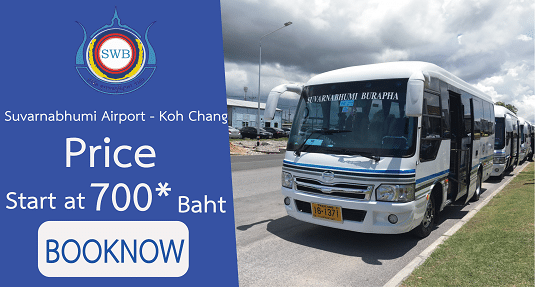 Suvarnabhumi Burapha Bangkok Provides Bus Service Between Bangkok Suvarnabhumi Airport and Koh Chang
Welcome Suvarnabhumi Burapha Bangkok! We are joyfully announcing that Suvarnabhumi Burapha Bangkok has joined BusOnlineTicket.co.th to launch an online booking service for their bus ticket. With Suvarnabhumi Burapha Bangkok joining BusOnlineTicket.co.th, we will work together to provide a seamless booking experience for our users. Check out Suvarnabhumi Burapha Bangkok bus schedules at BusOnlineTicket.co.th now!
Suvarnabhumi Burapha Bangkok is a popular bus brand based in Bangkok, Thailand. They are specialized in serving car/minivan and ferry joint service from Bangkok Suvarnabhumi Airport to Koh Chang and Koh Chang to Bangkok Suvarnabhumi Airport. The ticket price for car/minivan and ferry joint service between Bangkok Suvarnabhumi Airport and Koh Chang is charged reasonably at THB700 per way.
The pickup point and drop off point at Bangkok Suvarnabhumi Airport is located at Counter on Level 1, Gate No.8. Meanwhile, the pickup and drop off point in Koh Chang is located at Centrepoint Pier. Centrepoint Pier is one of the most convenient gateways that the cancellations of the ferry are extremely rare as the sea between Koh Chang and the mainland is sheltered from any tropical storms.
Koh Chang is one of the least developed large islands that you don't want to miss when traveling to Thailand. Grab your ticket at BusOnlineTicket.co.th and travel between Bangkok Suvarnabhumi Airport and Koh Chang with Suvarnabhumi Burapha Bangkok now. All the bookings through BusOnlineTicket.com will be instantly confirmed upon successful payment.