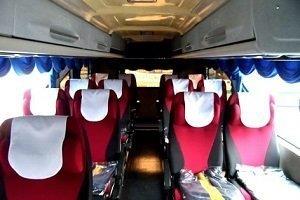 Piya Chai Patthana is providing bus from Dan Nok, to Hak Yai, Chiang Rai and Mae Sai. These bus routes are very important among people in Thailand because they connect two major areas in Thailand, which are the North and the South of Thailand.
Also, Piya Chai Pattana is one of the bus operators running the longest tour bus routes in Thailand, which has total distance up to 1,888 km. They cover routes such as Mae Sai, Chiang Rai, Phayao, Phrae, Uttaradit, Phitsanulok, Thungsong, Phatthalung, Hat Yai, and Dan Nok. The main bus terminal of Piya Chai Pattana is located at Hat Yai Bus Terminal.
The Piya Chai Pattana buses deployed for this bus services is the 877-1 VIP 42-seater double-decker bus. All the buses are air-conditioned and equipped with washroom facilities for the comfort of passengers during the journey. Moreover, they also provide blanket, drinking water and snacks for their passengers, because it is overnight bus.
Routes available for Piya Chai Pattana are as follow:
Dan Nok – Hat Yai – Chiang Rai – Mae Sai
Mae Sai – Chiang Rai – Hat Yai – Dan Nok
Check-in counters:
1. Point at Dan Nok Tha Danok Piya Rungrueng Tour
2. Pitya Tour Office, Muang Songkhla (Near Ra-Nod Bus)
3. Songkhla Bus Terminal (New Tha Pra-Mong)
4. Chiang Rai Bus Terminal Green Bus
5. Hat Yai Bus Terminal Piya Rungruang Tour
6. Maesai Bus Terminal Green Bus
Piya Chai Pattana Office
26/39 Moo 8 Boromratchonnani Road,
Chimphli, Talingchan Bangkok 10170
Please Note: Changes to fares and time schedules are at the discretion of the bus/ferry operators.
Piya Chai Patthana Schedule and Tickets
| | | | |
| --- | --- | --- | --- |
| CHIANG RAI | | HAT YAI | |
| CHIANG RAI | | NAKHON SI THAMMARAT | |
| CHIANG RAI | | PHATTHALUNG | |
| CHIANG RAI | | SONGKHLA | |
| HAT YAI | | CHIANG RAI | |
| HAT YAI | | PHAYAO | |
| HAT YAI | | PHITSANULOK | |
| HAT YAI | | PHRAE | |
| HAT YAI | | UTTARADIT | |
| SONGKHLA | | CHIANG RAI | |
| SONGKHLA | | PHAYAO | |
| SONGKHLA | | PHITSANULOK | |
| SONGKHLA | | PHRAE | |
| SONGKHLA | | UTTARADIT | |