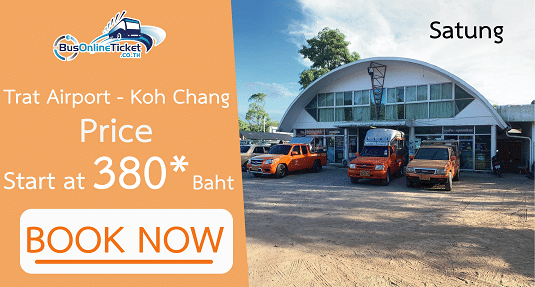 Santung Offers Van and Ferry Joint Service Between Trat Airport and Koh Chang
We have good news to share! BusOnlineTicket.co.th is so excited to welcome Santung for joining our platform to provide their online ticket booking service. Through this partnership, we will provide our users with greater convenience and better online booking experience.
As the home to many beautiful beaches and coral reefs, Koh Chang has become a perfect island destination for any kind of traveler. Now, getting to Koh Chang has never been easier with the transport service offered by Santung. They has launched their car/minivan and ferry joint service from Trat Airport to Koh Chang and from Koh Chang to Trat Airport.
The ticket price is charged as low as THB380 per way. The boarding point and arrival point in Trat are located at Trat Airport. Meanwhile, the pickup and drop off point in Koh Chang are located at the Centrepoint Pier.
Plan your vacation to explore the paradise island, Koh Chang now! You can book Santung van and ferry joint service ticket between Trat Airport and Koh Chang at BusOnlineTicket.co.th with without the hassle. All the bookings throughBusOnlineTicket.co.th will be instantly confirmed upon successful payment.