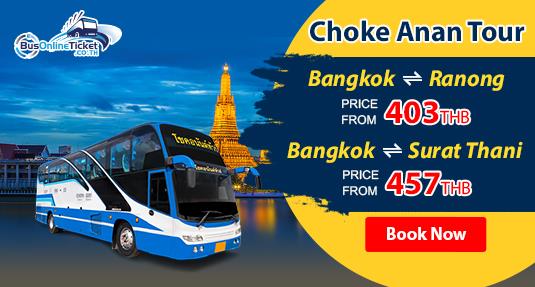 Planning on a peaceful and relaxing vacation in Thailand? Let
Choke Anan Tour
takes you to your desired destinations. Choke Anan Tour has newly joined BusOnlineTicket.co.th to provide quality bus service from
Bangkok to Ranong
and from
Bangkok to Surat Thani
back and from. You can now easily book Choke Anan Tour bus tickets with us for an exceptional travelling experience.
Choke Anan Tour is a well-established bus operator connecting famous provinces in Southern Thailand. The bus operator specializes in providing service for routes between Bangkok, Ranong and Surat Thani. Established in 1966, Choke Anan Tour never stops thriving to provide better service and convenience for their customers. Hence, the name has a good reputation and well-known by the passengers.
Buses from Bangkok to Ranong and from Bangkok to Surat Thani are among famous bus route provided by Choke Anan Tour. There are 4 departure times every day for each route with different fleet types and prices. Each fleet has their own specialties to suit the prices. The amenities provided including blanket and pillow, foods and drinks, personal entertainment system and toilet on-board; depends on the type of fleet you choose.
Explore Ranong and its many attractions and things-to-do in its beaches, waterfall and hot spring. Many pleasant surprises await you in Ranong especially if you enjoy relaxing and tranquil environment. Meanwhile, Surat Thani is the gateway to the famous islands in Thailand, namely Koh Phangan, Koh Tao and Koh Samui. These islands are famous tourist spots for their pristine beaches, astonishing views and the clear blue skies. Enjoy an even more exclusive travelling experience by taking Choke Anan Tour bus and book your tickets with BusOnlineTicket.co.th today!