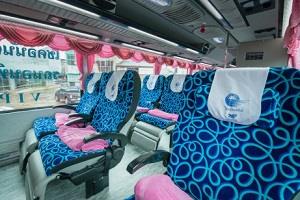 Quality Bus Service From Bangkok to Ranong and Surat Thani
Established in 1966, Choke Anan Tour has more than 50 years of experience as a bus operator connecting Bangkok to provinces in Southern Thailand. Their main aim is to provide convenience to the local population and to travellers coming to the region. Choke Anan Tour services the routes between Bangkok and Chumphon, Bangkok and Ranong, as well as Bangkok and Surat Thani.
The trip duration from Bangkok to Ranong and from Ranong to Bangkok is about 9 hours; while the trip duration from Bangkok to Surat Thani and from Surat Thani to Bangkok is about 10 hours. There are 4 departures per day for each route: 1 trip in the morning, and 3 trips in the evening.
There are 4 different bus types offered by Choke Anan Tour, namely the Express bus, the VIP 32 bus, the VIP 24 bus, and the VIP 35 bus. Each bus type has a different bus fare and offers varying levels of comfort. Travellers will be able to choose the ideal bus that suits their different needs. The Express buses are available for both morning and evening departures, while the VIP buses are only available for evening departures,
Throughout the years, Choke Anan Tour focuses on passenger safety before anything else. Choke Anan Tour also takes pride in the convenience and high service standards they offer, thereby establishing a strong impression and good relations with their customers. Despite being a well-established household brand among locals, Choke Anan Tour does not remain complacent. Their business services are continually developed and improved to ensure security and reliability is maintained at a high standard.
Choke Anan Tour Office (Ranong)
226/6 Tha Mueang Road,
Tambon Khao Niwet, Amphoe Mueang,
Ranong, 85000
Please Note: Changes to fares and time schedules are at the discretion of the bus/ferry operators.

Choke Anan Tour Schedule and Tickets
| | | | |
| --- | --- | --- | --- |
| AMPHOE MUEANG | | BANGKOK | |
| BANGKOK | | AMPHOE MUEANG | |
| BANGKOK | | RANONG | |
| BANGKOK | | SURAT THANI | |
| RANONG | | BANGKOK | |
| SURAT THANI | | BANGKOK | |