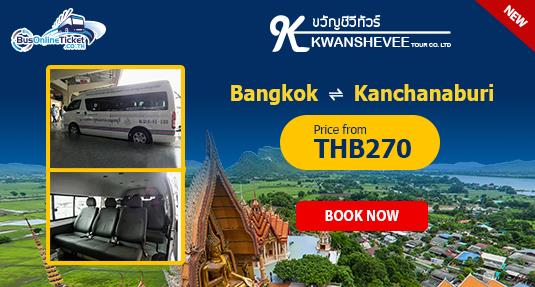 Kwan Chee Vee Tour Van Service Between Bangkok and Kanchanaburi
We are ecstatic to announce that Kwan Chee Vee Tour has joined and launched their online ticket booking service at BusOnlineTicket.co.th. Through the partnership between BusOnlineTicket.co.th and Kwan Chee Vee Tour, we believe that this will enable us to continuously improve our service quality to enhance our customers' experience.
Kwan Chee Vee Tour is a tour van transport company based in Bangkok Bus Terminal (Mo Chit 2), known as the Northern Bus Terminal in Bangkok Chatuchak area. Kwan Chee Vee Tour vans are all equipped with air-conditioner and comfortable seats which can hold to a maximum amount of 13 passengers. Moreover, Kwan Chee Vee Tour also have a good reputation with its punctual departure and arrival.
The most popular service provided by Kwan Chee Vee Tour is their comfortable tour van service from Bangkok to Kanchanaburi and from Kanchanaburi and Bangkok. The route is going over a distance of 150km and takes on average 2.5 hours depending on the traffic condition. The ticket price for the van service between Bangkok and Kanchanaburi is costs from THB270.
Planning to visit Thai Burma Death Railway Bridge in Kanchanaburi? You can book your van ticket now at BusOnlineTicket.co.th and travel with Kwan Chee Vee Tour. Booking ticket in BusOnlineTicket.co.th is simple and easy as long as you have a device with internet access. Confirmation of tickets is instant in BusOnlineTicket.co.th.