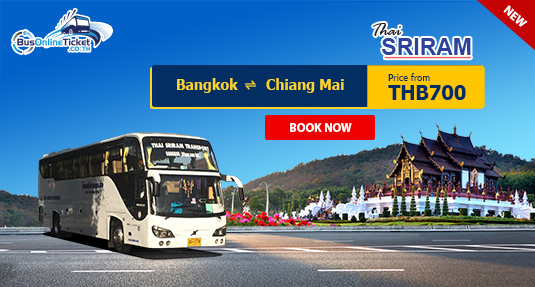 BusOnlineTicket.co.th is delighted to announce the launch of Thai Sriram Transport in our website by offering online ticketing service to the customers. Thai Sriram Transport is a well-established bus operator specializes in providing bus service departing from Bangkok. By joining BusOnlineTicket.co.th, customers now can easily book Thai Sriram Transport bus tickets online with just few clicks.
Thai Sriram Transport currently runs bus services between Bangkok and the North and South of Thailand such as Chiang Mai, Koh Samui, Koh Phangan and Hua Hin. The most popular routes are bus from Bangkok to Chiangmai and bus from Chiangmai to Bangkok, costs as low as THB700.
Thai Sriram Transport only provides 1 departures daily. The boarding point at Bangkok (Show DC Mall) Bangkok Tourist Terminal is at 6pm while the boarding point at Khao San Road is at 8pm. The drop off at Sripoom Boutique House in Chiang Mai (Old City), which is at the town centre.
Want to start your adventure to Chiang Mai, a land full of misty mountains, colourful hill tribes, symbolism, and cultural heritage? You can book your bus ticket with Thai Sriram Transport with the most reliable and secure online ticketing portal BusOnlineTicket.co.th. now. Once payment is made through our online payment facilities, you will get a confirmation email instantly.