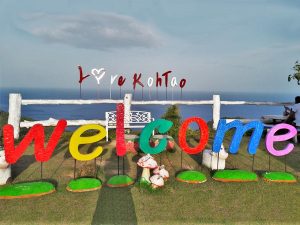 We were enjoying our summer vacation at a beach resort along Haad Sairee, at the province of Chumphon. Haad Sairee, or Sairee Beach, offered a scenic view of nearby islands, and various seafood restaurants with a variety of tempting dishes. We did not regret our impromptu decision to travel from Bangkok to Chumphon at all. After a few relaxing days in Chumphon, we were ready to explore Southern Thailand further.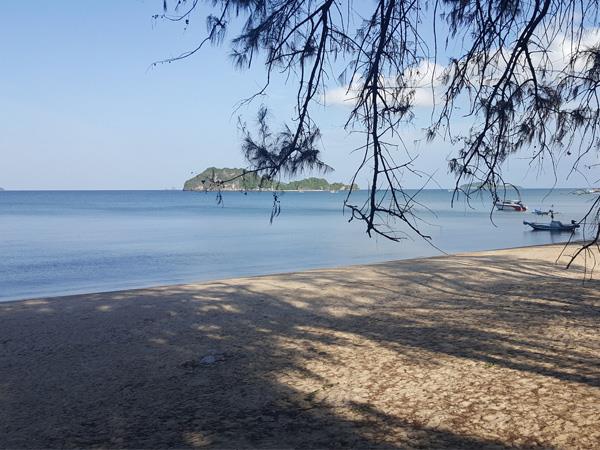 After researching online, we found out that Koh Tao is only a two-hour ferry journey away from Chumphon province. Koh Tao, or Turtle Island, is claimed to be an island paradise and an unforgettable destination for all who visits. We decided to check out the beauty of Koh Tao for ourselves, and booked our ferry tickets from Chumphon to Koh Tao via BusOnlineTicket.co.th.
Followings are our travelling experience with Lomprayah from Chumphon to Koh Tao :
| | |
| --- | --- |
| i. | Book Ferry Ticket Online with BusOnlineTicket.co.th |
| ii. | Going to Lomprayah's Chumphon Pier |
| iii. | Exchange for Ferry Ticket at Ticket Counter |
| iv. | Board Lomprayah Ferry |
| iv. | Arrival at Koh Tao |
Going to Lomprayah's Chumphon Pier

1.
We arranged for Lomprayah's minivan to pick us up at our beach resort at Haad Sairee. The minivan arrived punctually at the arranged time, and the driver greeted us with smiles.
2.
The driver helped us load our luggage into the back compartment, while we boarded the minivan. The seats were spacious and clean.

Exchange for Ferry Ticket at Ticket Counter

3.
The driver proceeded to other resorts to pick up other customers who requested for Lomprayah's transfer service. After that, we were dropped off at Lomprayah's Chumphon Pier. I went to the ticket counter with my BusOnlineTicket confirmation email to check in and exchange for ferry tickets.
4.
There are many things you can do at Lomprayah pier. There is a minimart, which sells snacks and drinks, and beach essentials such as flip flops, sunglasses, suntan lotion and so on. There is also a restaurant, selling sandwiches and other cooked meals. While waiting for our Koh Tao ferry to arrive, we went to the outdoor area to suntan.
5.
Once the Koh Tao ferry arrives, an announcement is made through the sound system and everyone queued in an orderly manner to board the ferry.

Board Lomprayah Ferry

6.
After the staff collected our ferry tickets, we walked out on the pier to reach the ferry. Note that you will have to carry your own bags, don't leave them at the waiting area! Before boarding the ferry, we handed our backpacks over to the Lomprayah staff, who will place them securely on the ferry.
7.
There are 3 different types of seating areas available on-board the Lomprayah ferry. The first option is in the middle deck outdoors, where there is shelter. The top deck is outdoor seating, without any shelter. At the lower deck, seats are indoors, with air-conditioning.

Arrival at Koh Tao

8.
The Lomprayah ferry will travel from Chumphon to Koh Tao, Koh Pha Ngan, and Koh Samui. The journey from Chumphon to Koh Tao will take about 2 hours; from Koh Tao to Koh Pha Ngan an additional 2 hours; from Koh Pha Ngan to Koh Samui about 30 minutes.
Upon arrival at Koh Tao, an announcement is made and we alighted the ferry. Passengers travelling from Chumphon to Koh Pha Ngan and from Chumphon to Koh Samui are asked to stay on the ferry.
9.
At Mae Haad Pier in Koh Tao, there is a sitting area for tourists waiting for taxis to be arranged to send them to their intended location.
10.

We managed to hail for a taxi and we were sent to our resort. Finally, we have arrived on Koh Tao!