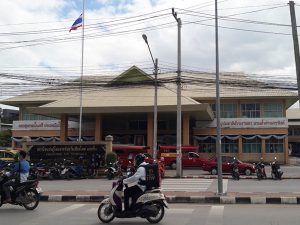 As we wanted to make sure everything went smoothly on our vacation, we preferred to book everything in advance accommodations, flights, and transportation. Thankfully, we found out that we can book tickets for local transportation within Thailand via BusOnlineTicket.co.th.
Here is the summary of our journey:
| | |
| --- | --- |
| i. | Book bus ticket online with BusOnlineTicket.co.th |
| ii. | Board the bus at Chiang Mai Bus Terminal 3 |
| iii. | Facilities in Sombat Tour Super Class bus |
| iv. | Dinner at rest stop |
| v. | Arrival in Bangkok |
Book bus ticket online with BusOnlineTicket.co.th

1.
We booked our bus tickets from Chiangmai to Bangkok with Sombat Tour. We paid 569 THB per person for the Super Class, which is better than the Star Class bus we took from Bangkok to Chiang Mai.

Board the bus at Chiang Mai Bus Terminal 3

2.
On the day of departure, we went to Chiang Mai Bus Terminal 3, also commonly known as Arcade Bus Station 3. At Sombat Tour's ticket counter, we collected our bus tickets.
3.
Next, we headed to the bus platform to wait for our bus. Arcade Bus Terminal 3 is extremely crowded as most of the buses depart from this new bus terminal. Despite this, there are plenty of seats available around the bus platforms.
4.
About 30 minutes before departure, the Sombat Tour bus arrives at the bus platform from the parking bay. We handed our bags to the bus driver for loading into the luggage compartment. Our bus tickets are also checked and the bags are labelled to prevent any confusion.
5.
For Sombat Tour's Super Class bus, the door for boarding is in the front, next to the bus driver. The bus steward in the bus collected our bus tickets and directed us to our assigned seats.

Facilities in Sombat Tour Super Class bus

6.
The Super Class bus features a 2+2 seating arrangement. Each seat comes with a blanket and neck pillow. Unlike the Star Class bus, the Super Class bus seats come with an in-built massage function! What a good way to relax our sore muscles while travelling the long journey!
7.
The restroom is located at the back of the bus. This is extremely accessible as compared to the Star Class bus, where you have to go down the stairs to reach the restroom. While the restroom cubicle may be a little cramped, I was surprised to find it well-ventilated and odourless.

*Tip: You may wish to use the Sombat Tour bus's restroom once you board the bus, instead of using the Chiang Mai Bus Terminal's restrooms. I found the bus toilet to be more hygienic and clean. An added bonus is that you do not need to pay to use its facilities and toilet paper is also provided free-of-charge!

8.
Another wonderful feature of the Super Class bus is that passengers get their own personal entertainment system. Movies and shows come in both Thai and English soundtrack. On top of that, there are a wide variety of games, including classics such as Solitaire, Angry Birds, and many more.

There is also a USB port for you to charge your phones on the go! We were initially disappointed as we did not bring our earphones along with us. We were delighted to find out that Sombat Tour loans out headphones for us! The bus steward will distribute the headphones and note down our seat numbers if we wanted to borrow a pair.

Dinner at rest stop

9.
After 6.5 hours of travelling, we made a 20 to 30-minute rest stop. This rest stop is exclusively owned by Sombat Tour so the dining experience was private and wonderful.

As the Super Class bus is considered a VIP bus, dinner was free-flow and we could order seconds, if we were still hungry. The bus steward also served all passengers cups of cold water, unlike the Star Class where we had to take our own drinks.

10.
After returning to the bus, we were each given a moist towelette to refresh up. The bus steward also prepared cups of hot green tea for each of us. This service is only available on the VIP buses.

Arrival in Bangkok

11.
After another 4 hours, we arrived in Bangkok. The bus journey from Chiang Mai to Bangkok took a total of 11 hours. I find that the Super Class bus is much better as this is an express service, with no pick-up stops, unlike the Star Class bus. Facilities such as the massage chairs and in-built personal entertainment system also made the journey a far more enjoyable experience.

For just 80 THB, I found that the upgrade from the Star Class to the Super Class was a worthwhile choice!