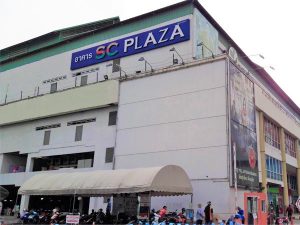 If you have been to Phuket, Krabi, or Phang Nga, you will understand the appeal of the Thai provinces along the coast of Andaman Sea. Ranong, which marks the beginning of the Andaman Sea, is one of the hidden tourist destinations in Southern Thailand.
Most of Ranong's geography is mountainous. Waterfalls flowing from the steep mountains can be viewed from a distance, and Ranong's unique flora and fauna can be found around these areas. On top of that, Ranong is well-known for its natural hot springs. The Thai-style onsen is rich in minerals and therapeutic.
If you prefer the seaside lifestyle, there are several islands around Ranong with unspoiled coral reefs and rare marine creatures. Expect fresh seafood from Andaman Sea, which you can indulge to your heart's delight at affordable prices. Mountains and the sea; freshwater and saltwater→ Ranong really does have it all!
Hearing all these wonderful things about Ranong, we decided to go to Ranong from Bangkok. Here is the summary of our journey :
| | |
| --- | --- |
| i. | Book bus ticket online with BusOnlineTicket.co.th |
| ii. | Board the bus in Sai Tai Mai |
| iii. | Break at rest stop in Prachuao Khiri Khan |
| iv. | Arrival in Ranong Bus Terminal |
Book bus ticket online with BusOnlineTicket.co.th

1.
We booked our Bangkok to Ranong tickets with Choke Anan Tour, and paid 627 THB per person for VIP 24 seats.
2.
As the bus departs from Southern Bangkok Bus Terminal (Sai Tai Mai), we had to take a taxi to get there. The Sai Tai Mai Bus Terminal building is also known as 'SC Plaza'.

Board the bus in Sai Tai Mai

3.
We went to Choke Anan Tour's ticket counter on 1st floor to check in and retrieve our bus tickets.
4.
To get to Choke Anan Tour's bus platform boarding, we first had to go through the security counter, cross the overhead bridge, and then go down the stairs.
5.
Following the sign directing us to the correct bus platform, we found the Choke Anan Tour bus waiting for us at the bus bay. The bus driver helped us tagged our bags and loaded them onto the luggage compartment.
6.
The seating arrangement in the VIP 24 bus is a single seat on the left side of the aisle, and 2 seats on the right side. This gives us plenty of space to stretch and relax on-board.

There is also a personal entertainment system on each seat, which offers a wide variety of shows. Bring your own earphones as they are not provided! Prior to departure, the stewardess will give out snacks and drinks to each passenger.

Break at rest stop in Prachuao Khiri Khan

7.
After 4 hours of travel, the bus will take a 20-minute break at a rest stop along Prachuap Khiri Khan. You can head to the restaurant's VIP room to have dinner, with compliments of Choke Anan Tour. Simply exchange your bus tickets for entry.
8.
If you have some extra time, you can shop around for some food items or souvenirs. You may also choose to visit the restrooms.

Arrival in Ranong Bus Terminal

9.
30 minutes before arrival at Ranong Bus Terminal, the stewardess offered each of us a moist towelette to freshen up. Hot coffee and tea is also available.
10.
The bus journey from Bangkok to Ranong Bus Terminal took about 8 hours. Despite being surrounded by mountain ranges, travelling to Ranong by bus is not difficult. In fact, you will be greeted with the sight of breath-taking waterfalls as you approach the province of Ranong.