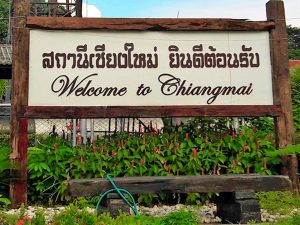 We had been planning a trip to the Land of Smiles for several weeks. We learnt that Chiang Mai is an extremely popular spot for tourists from all around the world and we wanted to find out for ourselves the beauty of this northern Thailand province.
After comparing different transportation options, we decided to take the bus from Bangkok to Chiang Mai. The train from Bangkok to Chiang Mai will take a longer travel duration than the bus from Bangkok to Chiang Mai. While flights are the fastest option, they are significantly more expensive.
Here is the summary of our journey:
| | |
| --- | --- |
| i. | Book bus tickets |
| ii. | Go to Sombat Tour Bus Terminal |
| iii. | Board the Sombat Tour bus |
| iv. | Dinner at rest stop |
| v. | Arrival in Chiang Mai Bus Terminal |
Book bus tickets

1.
We booked our bus tickets from Bangkok to Chiang Mai with Sombat Tour. It costs about 500 THB per person for the 'Star' Class, which is the 1st Class Air-Conditioned Bus.

Go to Sombat Tour Bus Terminal

2.
On the day of departure, we took a taxi from Don Mueang International Airport to Sombat Tour Bus Terminal. The journey took about 30 minutes. Don Mueang International Aiport is located on the same stretch of road as Sombat Tour Bus Station. Upon entering the building, there is an information counter located near the entrance. The helpful staff directed us to the ticket counters to get our bus tickets.
3.
We arrived at Sombat Tour Bus Terminal with plenty of time to spare so we explored the vicinity. Within the building itself, there were many different areas which you can wait for the bus. Despite the large volume of passengers, there were more than enough sofas for everyone to sit comfortably. Most interesting is the area which features bus seats so that you can test out Sombat Tour's bus seats before boarding the bus!
4.
There is a café where you can purchase snacks and drinks. However, if you prefer a hot meal, there are food stalls and a dining area outside the building. Refrigerated drinks are also available here. Other facilities in the bus station include a massage room and clean restrooms.

Board the Sombat Tour bus

5.
30 minutes before departure, we went to the boarding bay. The steward and bus driver checked our bus tickets, and collected our bags for loading into the luggage compartment.
6.
Upon boarding the bus, the steward guided us to our correct seats. The interior of the bus was spotless! There are also neck pillows kept at the overhead compartments for use.
7.
What I like about Sombat Tour's bus is that the seats are spacious and comfortable. There was plenty of leg room for me and I could incline my seat to sleep if I needed to.
* Tip: Request for seats at the last row if you want more leg room. You can stretch out your legs and not hit the seat in front of you!
8.
Another wonderful thing was the amenities on-board the bus. Each of us was given a blanket, which is wrapped in plastic, so that you know that the blanket is not re-used. We were also given a box of confectionaries, a bottle of water, and a packet drink.

Dinner at rest stop

9.
4.5 hours into the journey, there was a rest stop for 20 to 30 minutes. Passengers were invited to have their dinner at the restaurant. There were a variety of dishes to choose from: noodles, rice, porridge, and so on. I exchanged my bus ticket for a bowl of warm porridge→ it was delicious! The rest stop also has a minimart for passengers to replenish on snacks and drinks, if necessary.
10.
Upon returning the bus, the steward distributed another packet drink to each passenger. Sombat Tour's service standards are simply impeccable!

Arrival in Chiang Mai Bus Terminal

11.
Prior to alighting the bus, the steward gave us all 2 packets of moist towelettes each to refresh up. Upon arriving at Chiang Mai Bus Terminal, the bus driver and steward assisted us with unloading our luggage.
12.
After travelling for 12 hours from Bangkok, we finally arrived at Chiang Mai!