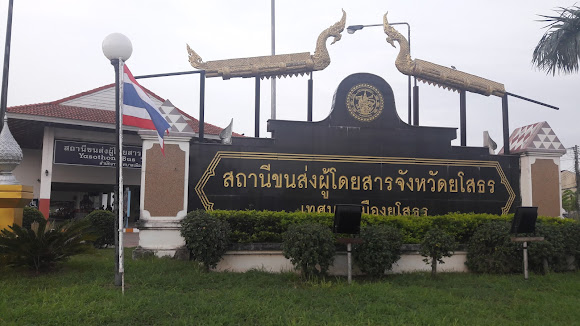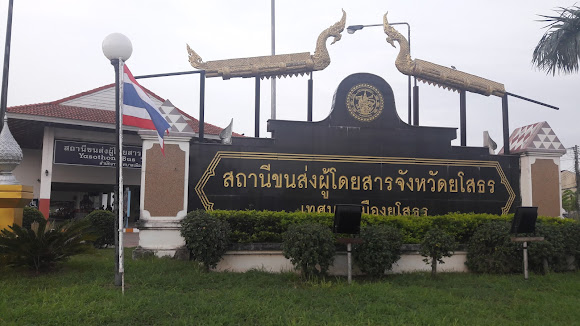 GENERAL INFORMATION
Yasothon is the smallest province in Isan region, it is famed for its Rocket Festival, which is celebrated at the commencement of the Rainy Season. The homemade rockets, some capable of firing hundreds of feet into the sky, pay homage to the god of rain. The celebration lasts for days with elaborately decorated floats paraded through the town and live music performed for those interested in dancing or partying late into the night. 
ARRIVAL AND DEPARTURES AT YASOTHON BUS TERMINAL
Bus is the only direct transportation service to travel from Bangkok to Yasothon. The duration required from Bangkok to Yasothon by bus is about 9 hours, depending on the road traffic and weather conditions. At least one stopover will be given all along the journey. Bus999 is a bus operator offering bus service from Bangkok to Yasothon. Their combined trips total up to 7 daily departures. 
ADDRESS AND LOCATION OF YASOTHON BUS TERMINAL
Yasothon's bus station is located on the northern edge of town off Highway 292. The address of Yasothon Bus Station is Nai Mueang, Mueang Yasothon District, Yasothon 35000, Thailand. The location of Yasothon Bus Terminal is:

HOW TO GET YASOTHON BUS TERMINAL
To get around the city, there are Song Thaeo pickup trucks, three-wheeled motorcycles, as well as motorcycle taxis available. Motorcycle taxis charge around 30 baht for the three-kilometer ride from Yasothon Bus Terminal to The city. You can find motorbike taxis at the bus station but nowhere else, and there are no taxis and very few tuk tuks.
AMENITIES
At Yasothon Bus Terminal, there are ticket counters where people can easily line up to buy bus tickets. They can also sit on the provided chairs. Yasothon Bus Terminal provides a minimart for the travelers to buy drinks and snacks. The sitting area is open-air and very comfortable because the place is spacious and Free toilet.