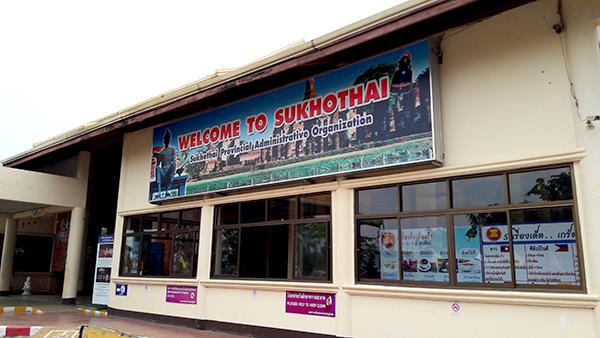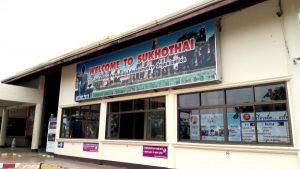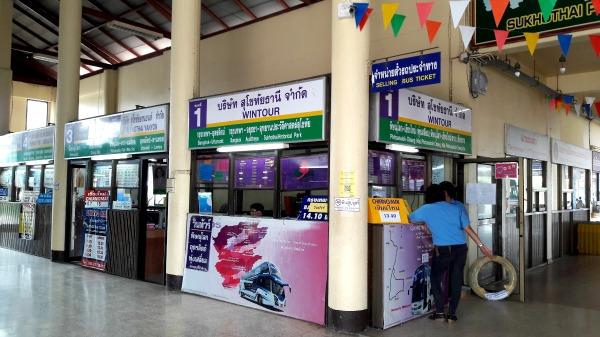 GENERAL INFORMATION
Sukhothai Bus Terminal is also known as AEC Bus Station. Sukhothai Bus Terminal or Sukhothai Bus Station is located in sub-district Ban Kluai of Sukhothai Province, Thailand. One can easily recognize the terminal by its colourful signboard written "AEC Bus Station" with many flags of various countries at the entrance of the terminal.
Sukhothai is a small city in the lower part of Northern Thailand. The name Sukhothai actually means "The Dawn of Happiness". In Sukhothai, there are monuments and temple ruins that have been restored. Mostly, visitors especially the historical lovers are attracted to visit Sukhothai Historical Park which has been designated as UNESCO World Heritage Site. There are also several interesting museums and places in Sukhothai such as Ramkhamhaeng National Museum and Sri Satchanalai National Park. Sukhothai's breathtaking view also plays a part in attracting the locals and tourists from all over the world to visit this province.
ADDRESS AND LOCATION OF SUKHOTHAI BUS TERMINAL
The location of Sukhothai Bus Terminal (Sukhothai Bus Station) is in Tambon Ban Kluai, Amphoe Mueang Sukhothai 64000, Thailand. Before entering the terminal, you will see a line of Thailand flags in front of the terminal and there is a signboard on an orange wall with gold-coloured sign of Sukhothai Bus Terminal surrounded by many flags from several countries. The Sukhothai Bus Terminal address is:
TRANSPORTATION SERVICE IN SUKHOTHAI BUS TERMINAL
BusOnlineTicket.co.th is a well-known online ticketing portal where people can easily book bus, train and ferry ticket and pay via many secured payment options. For transportation service in Sukhothai Bus Terminal, BusOnlineTicket.co.th provides bus tickets for routes from Bangkok to Sukhothai and Khon Kaen to Sukhothai. The bus operator for bus from Bangkok to Sukhothai is Phitsanulok Yanyon Tour. Meanwhile, for bus from Khon Kaen to Sukhothai, Phet Prasert is the operator to provide this service. There are many buses and departure times from Bangkok to Sukhothai which depart from 7.00 am to 9.30 pm. From Khon Kaen to Sukhothai, they provide several departures at night from 7.30 pm to 10.00 pm.
The bus fares for both trips are different. The bus fare for bus from Bangkok to Sukhothai is in the range of THB 301 to THB 361, while the bus fare for bus from Khon Kaen to Sukhothai starts from THB 265 to THB 386. The bus fare depends on the coach type, the pick up and the drop off point. The estimated duration for bus to Sukhothai from Bangkok is 7-8 hours, whereas from Khon Kaen to Sukhothai will takes around 5.3 hours. Thus, you can check the schedule, bus fare and bus operator for bus from Bangkok to Sukhothai and Khon Kaen to Sukhothai through the official website BusOnlineTicket.co.th. There are more routes that are available for online booking at BusOnlineTicket.co.th.
In addition, local transportation such as tuk-tuk, motorcycle taxis and songthaew are also available at Sukhothai Bus Terminal. You can take any of these local transportations to get to your next destination once you arrive at the bus terminal.
GETTING TO SUKHOTHAI BUS TERMINAL
If you are in Sukhothai city and nearby, it is very easy for you to get to Sukhothai Bus Terminal. Different colours of songthaews are available and the charges can be different depending on your location. Beside songthaew, tuk-tuk and motorcycle taxis are also a popular choice of public transportation to go to the Sukhothai Bus Terminal. There are also local buses in the city for you to reach Sukhothai Bus Terminal. It is easier for people to get around as the cost for all the public transportation are at an affordable fare.
AMENITIES
There are many amenities in Sukhothai Bus Station available for the passengers. Passengers can purchase their tickets from the ticket counters available at the terminal. Sukhothai Bus Terminal has spacious sitting and waiting area. Restroom and toilets are available at the opposite end of the terminal. You can also get some refreshments to drink and buy snacks at the minimart in Sukhothai Bus Terminal.
For more information and pictures, read the Ultimate Guide to Sukhothai Bus Terminal page.