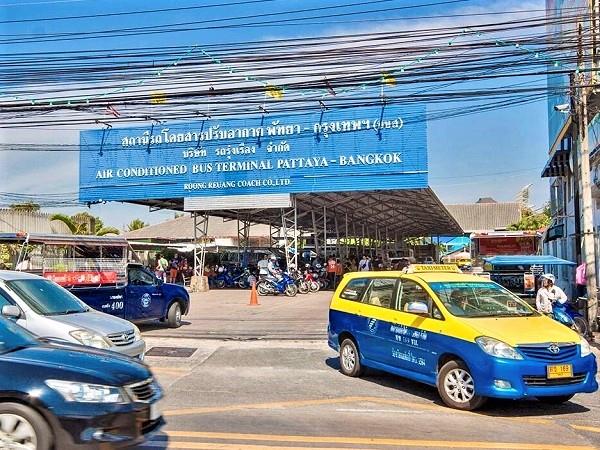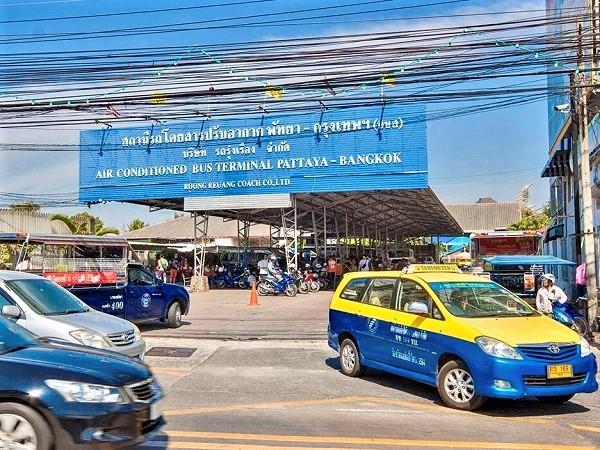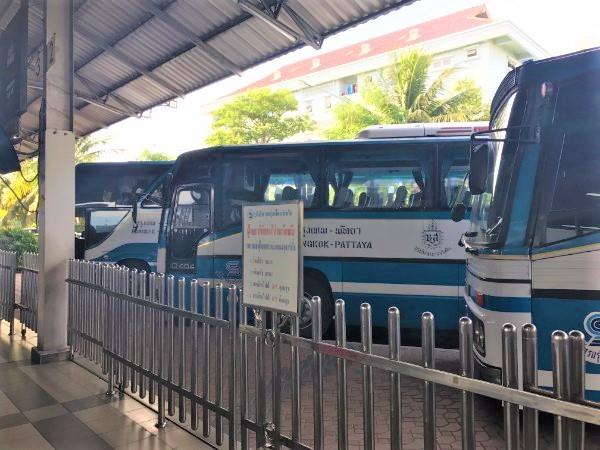 GENERAL INFORMATION
There are several pick up points and bus stations in Pattaya. The official name of the main Pattaya bus station is the "Air Conditioned Bus Terminal Pattaya – Bangkok". This bus terminal is located on the North Pattaya Road, 5km away from Pattaya Walking Street. The buses that arrive and depart from this Pattaya bus station is mainly operated by Roong Reuang Coach (RRC).
As the name suggest most of the buses going to Bangkok from Pattaya or from Pattaya to Bangkok departs and arrive in this Pattaya bus station. Popular bus route is bus from Suvarnabhumi Airport to Pattaya and bus from Pattaya to Suvarnabhumi Airport. Other popular destinations in Bangkok include Ekamai, Mo Chit 2 and Sai Tai Mai. Additionally, you can also go to Hua Hin from this Pattaya bus station.
MINIVAN AND BUS SERVICES IN PATTAYA BUS TERMINAL
You can find several bus and minivan operators that offer services to different locations at the ticket counter. Some of the popular bus operators in this Pattaya bus station are Roong Reuang Coach, Bell Travel Service and Yellow Bus.
Bell Travel Service mainly operates the routes between Suvarnabhumi Airport and Pattaya. Meanwhile, Roong Reuang Coach operates the routes between Suvarnabhumi Airport and Hua Hin and the routes between Pattaya and Hua Hin.
You can book the bus and minivan tickets at the counter. However, booking your bus tickets online can save cost and ensures a smooth journey by securing your ticket in advance. Especially when the tickets for bus from Bangkok to Pattaya and bus from Pattaya to Bangkok can be sold out fast during high season. Alternatively, you can book Bell Travel Service bus tickets online and other Pattaya bus tickets from the trusted online booking portal BusOnlineTicket.co.th.
GETTING TO PATTAYA BUS STATION
Unlike Bangkok, there is no MRT or BTS Skytrain in Pattaya. Therefore, as usual the public transportation available to take you to Pattaya bus station are songthaew and taxi.
Songthaew is the cheapest option with price from less than 50 THB (usually 10-20 THB) to travel around the town. Just go to the songthaew pickup point and board the songthaew without talking to the driver. Talking to the driver might increase the chance of you paying more. Do your research and know where you want to go before you start the trip. Taxi usually do not use meter so agree on the price before you board and expect to pay higher price. Price depends on the distance and your negotiating skill.
LOCATION OF PATTAYA BUS STATION
FACILITIES
The facilities in the Pattaya bus station are complete for the convenience of the passengers. The waiting area is spacious with plenty seats to accommodate the passengers. You can fill your stomach before your departure from the minimarts, drinks and food stalls in the bus station too. You can also find toilet with entrance fee of 3 THB. In addition, there are mobile charging points in the bus station available with some usage fee.
For a complete guide with pictures, go to The Ultimate Guide for Air Conditioned Bus Terminal Pattaya-Bangkok.