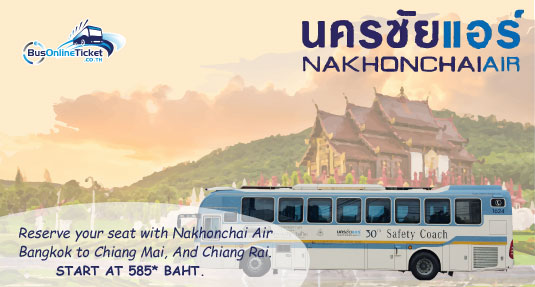 Start your adventure with Nakhonchai Air from Bangkok to Chiang Mai and Chiang Rai
Welcome our new partner Nakhonchai Air onboard! We are very excited to share with everyone that Nakhonchai Air has partnered with us to provide online ticket booking service for their bus tickets on BusOnlineTicket.co.th. With the partnership between Nakhonchai Air and BusOnlineTicket.co.th, everyone now can enjoy a hassle-free 24/7 online access to check Nakhonchai Air trip availability and book bus ticket online at BusOnlineTicket.co.th without queuing up at the bus terminal.
Nakhonchai Air, also known as NCA and Nakhonchai Air, is one of the big-sized bus company headquartered in Bangkok, Thailand. Nakhon Chai Air offers a wide range of luxury bus services mainly from the central region to the northern region and Isaan, the north-eastern regions of Thailand.
NCA offers the best quality bus services to many amazing destinations all around Thailand such as bus from Bangkok to Khon Kaen, Bangkok to Nong Khai, Bangkok to Ubon Ratchathani and many more.
The most popular bus routes provided by NCA are as follows:
From Bangkok to Chiang Mai
From Bangkok to Chiang Rai
The pick-up points in Bangkok are located at Nakhonchai Air Bus Station Bangkok, Mo Chit Bus Terminal and Rangsit depending on your selection of boarding point. The drop off point in Chiang Mai is located in Nakhonchai (Chiang Mai) which is just beside to Arcade 2 bus terminal. As for the drop off point in Chiang Rai is located at Chiang Rai Bus Station. There are 2 types of coach fleet provided by Nakhonchai Air Bus to serve customer's needs: First Class and Gold Class, which are reasonably charged in a range of THB585 to THB823 depending on your selection of coach type.
Want to have a luxurious travel experience at an affordable price? Book Nakhonchai Air bus ticket from Bangkok to Chiang Mai and Chiang Rai with BusOnlineTicket.co.th now. All bookings via BusOnlineTicket.co.th have instantly confirmed upon payment is successful.