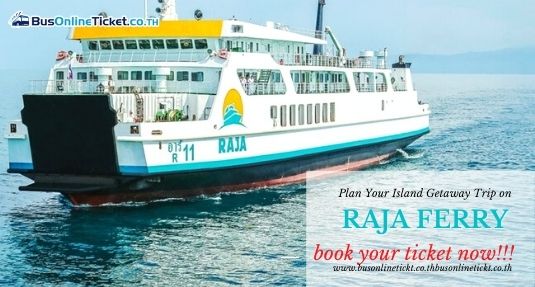 Raja Ferry Port Bus and Ferry Joint Service from Surat Thani to Koh Samui and Koh Phangan
Welcome our new partner, Raja Ferry Port! We are happy to announce that Raja Ferry Port has joined BusOnlineTicket.co.th to provide online ferry ticket booking service to our customers. With Raja Ferry Port joining BusOnlineTicket.co.th, we will work together to deliver excellent online booking experiences and greater convenience to our valued customers.
Raja Ferry Port is one of the most popular and reliable ferry provider in Thailand. The company headquarter office is located at Don Sak, Surat Thani. Raja Ferry Port is specialised in operating bus and ferry combo services to many destinations such as Koh Phangan, Koh Samui, Krabi, Nakhon Si Thammarat, Phuket, Surat Thani and many more.
The most popular bus and ferry joint services provided by Raja Ferry Port are as follow:
…and many more.
The price for Bus and Ferry combo service is as low from THB 250. The boarding and arrival point in Surat Thani is either located at Surat Thani Airport or Surat Thani Town. Moreover, the pick up point and drop off point for Koh Phangan and Koh Samui is located at Thong Sala Pier (Koh Phangan) and Lipa Noi Pier (Koh Samui), respectively.
Planning to have your weekend staycation in Koh Phangan and Koh Samui, the two paradise islands in Thailand? Book your bus and ferry joint ticket at a user-friendly, reliable and secure online ticketing portal BusOnlineTicket.co.th now and travelling comfortably with Raja Ferry Port. Once your payment is done through our secure payment facilities, you will get a confirmation email instantly.