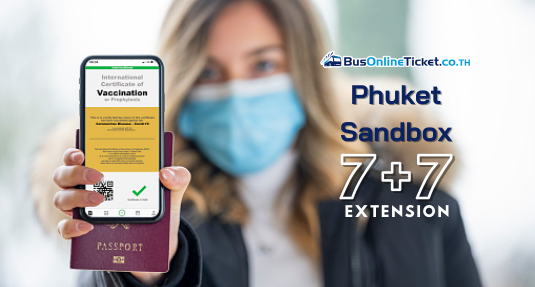 Fully-Vaccinated International Travellers May Travel to Approved Destinations in Thailand After 7 Nights in Phuket
The Tourism Authority of Thailand (TAT) has upgraded the Phuket Sandbox Program to "Phuket Sandbox 7+7 Extension". The "Phuket Sandbox 7+7 Extension" providing fully vaccinated international travellers with more options to visit multiple Thai destinations without the need to quarantine. Through the Phuket Sandbox 7+7 Extension program, fully-vaccinated foreign travellers now can explore more of Thailand.
Phuket Sandbox 7+7 Extension allows fully vaccinated international travellers to reduce the compulsory stay in Phuket from 14 days to 7 days. After 7 days staying in Phuket, you can then continue your journey to the extension areas for another 7 nights via approved mode of transport and routes. Please note that you can only choose one extension area to stay for 7 nights. After a 7-nights in Phuket plus a 7-nights in the extension area, you will be able to travel freely within Thailand as long as all test results are negative. The extension areas include the following:
Krabi (Ko Phi Phi, Ko Ngai, or Railay)
Phang-Nga (Khao Lak or Ko Yao)
Surat Thani (Ko Samui, Ko Pha-ngan, or Ko Tao)
You may book your SHA Plus (SHA+) hotel via online travel agencies (OTA) such as Klook, BusOnlineTicket.co.th or direct booking to the SHA Plus hotels. Moreover, you may book your bus ticket and ferry ticket with Bus 999, Rayong Tour, Raja Ferry Port, Phantip Travel or other reliable transport operators. The popular approved domestic routes are Phuket to Bangkok, Surat Thani to Koh Phangan, Surat Thani to Koh Samui and many more.
Grab your luggage and go travel! Book your bus ticket, ferry ticket and SHA Plus hotel at BusOnlineTicket.co.th now. Instant booking confirmation at BusOnlineTicket.co.th upon successful payment. Stay safe when you travel!