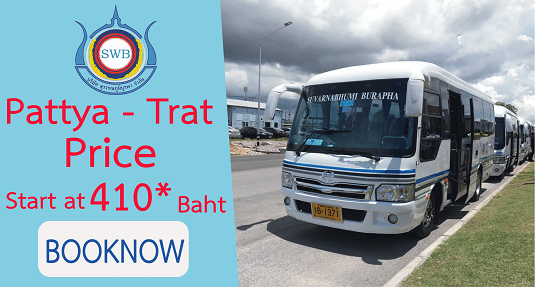 Suvarnabhumi Burapha Pattaya Provides Bus from Pattaya to Trat, Rayong and U Tapao Airport
Good news! The popular bus operator in Thailand, Suvarnabhumi Burapha Pattaya has joined BusOnlineTicket.co.th to provide an online booking service for their bus ticket. With the partnership between Suvarnabhumi Burapha Pattaya and BusOnlineTicket.co.th, everyone now can enjoy a hassle-free 24/7 online access to check Suvarnabhumi Burapha Pattaya trip availability and book bus ticket with just a few clicks at BusOnlineTicket.co.th.
Suvarnabhumi Burapha Pattaya is a well-established bus company based in Pattaya, Thailand. All minibusses and vans are fully equipped with air-conditioning, spacious seats and adequate storage space for luggage. All drivers are well-trained to ensure their passengers have a comfortable and safe journey to their destination.
The popular routes offered by Suvarnabhumi Burapha Pattaya are as follow :
…… and many more.
The ticket price for the trips mentioned above is charged in a range of THB190 to THB410. The pickup point in Pattaya is located either at Big C South Pattaya or U Tapao Airport. Meanwhile, the drop off point at Trat and Rayong is located at Trat Bus Station and Rayong Bus Station respectively. Please note that U Tapao Airport is a public airport serving the cities of Pattaya and Rayong.
As long as you're connected to the Internet, you can book Suvarnabhumi Burapha Pattaya tickets online at BusOnlineTicket.co.th at any time and anywhere. We accept various types of payment methods such as VISA, MasterCard, PayPal, Alipay and many more. All the bookings made through BusOnlineTicket.co.th are instantly confirmed upon successful payment.