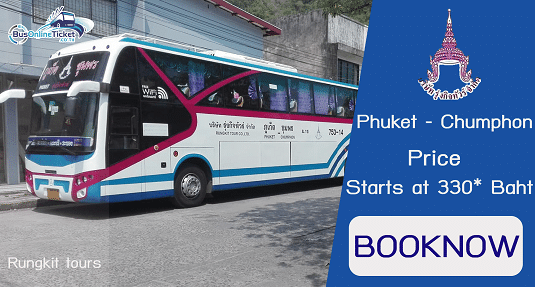 Rungkit Tour Offer Exclusive Bus Service from Phuket, Ranong, and Chumphon to Khao Lak
Welcome, Rungkit Tour! Rungkit Tour has joined BusOnlineTicket.co.th to provide an online booking service for their bus tickets to travelers around the world. With the partnership between Rungkit Tour and BusOnlineTicket.co.th, everyone now can enjoy the convenience of 24/7 access to BusOnlineTicket.co.th to check Rungkit Tour trip availability and book their bus ticket online anytime without any hassle.
Rungkit Tour is a bus company based in Chumphon, Thailand. The company is specialized in providing comprehensive bus services covering different regions in Thailand. Coaches deployed by Rungkit Tour are P1 buses fully equipped with air-conditioner, reclining seats, and spacious legroom.
The popular bus services provided by Rungkit Tour are as follow::
…… and many more.
The bus fare is a range of THB150 to THB295, depending on your selection of boarding points. The pick-up point in Phuket, Ranong, and Chumphon are located at Bus Terminal Station 2, Rungkit Tour Office (Ranong Branch), and Rungkit Tour Office (Chumpon Branch) respectively. The drop-off point in Khao Lak is conveniently located at Khao Lak Bus Station.
If you're craving for a relaxing beach vacation in Thailand, grab your bus ticket to Khao Lak at BusOnlineTicket.co.th and travel comfortably with Rungkit Tour. All the booking via BusOnlineTicket.co.th are instantly confirmed upon payment is successful, so you could have a peace of mind that your favorite seat is secured before traveling. And, don't forget your sunscreen!