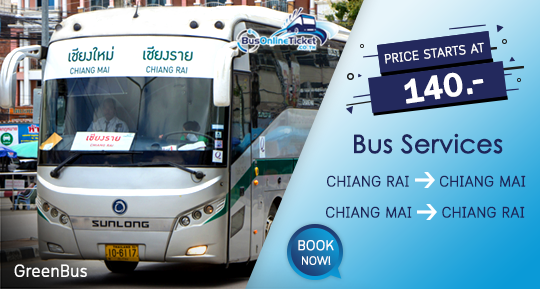 GreenBus Thailand Offer Bus Service Between Chiang Mai and Chiang Rai
A very warm welcome to our new partner GreenBus Thailand! We are very excited to announce that GreenBus Thailand has joined BusOnlineTicket.co.th to provide online booking service for their bus tickets. Now, everyone can enjoy the convenience of 24/7 online access to book GreenBus Thailand bus ticket at BusOnlineTicket.co.th to reserve your bus ticket without any hassle.
GreenBus Thailand is a popular bus company that offers a wide range of bus services across Thailand with their headquarter office located at Chiang Mai, Thailand. They are specialized in providing bus service within Northern region of Thailand. All the coaches deployed by GreenBus Thailand are fully equipped with air-conditioner, spacious seat, and adequate legroom to ensure their passengers have a pleasant bus journey.
The popular bus routes offered by GreenBus Thailand are as follows:
The boarding point and arrival point in Chiang Mai are located at Chiang Mai Bus Terminal 3 while the boarding point and arrival point in Chiang Rai are located at Chiang Rai Bus Terminal 1, Chiang Rai Bus Terminal (Amphoe Chiang Khong), Chiang Rai Bus Terminal (Amphoe Mae Sai), Chiang Rai Bus Terminal (Amphoe Thoeng), or Chiang Rai Bus Terminal (Golden Triangle). The bus fare is varies depending on your selection of coach type. There are 3 types of coach offered by GreenBus Thailand: A-Class, X-Class and V-Class, which are reasonably charged at THB220, THB260 and THB360 respectively.
Are you ready to discover the distinctive culture in Chiang Mai and Chiang Rai and immerse yourself in the local culture of Thailand? Book your bus ticket between Chiang Mai and Chiang Rai now at BusOnlineTicket.co.th and travel comfortably with GreenBus Thailand. BusOnlineTicket.co.th also offer instant confirmation to give travellers a peace of mind that their seat is secured before travelling.