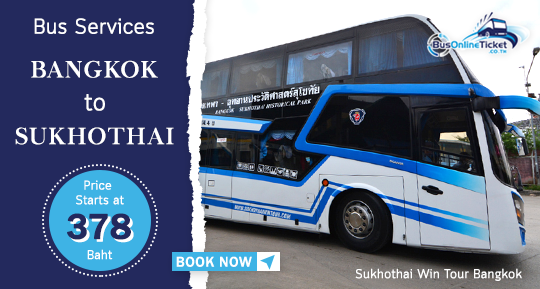 Sukhothai Win Tour Bangkok Offer Bus from Bangkok to Sukhothai
A rousing welcome to Sukhothai Win Tour Bangkok! Sukhothai Win Tour Bangkok has been newly joined our BusOnlineTicket.co.th family to provide online booking service for their bus tickets. Now, you can book Sukhothai Win Tour Bangkok bus ticket at anytime, anywhere and any places with just a few clicks of button at BusOnlineTicket.co.th.
Sukhothai Win Tour Bangkok is specialized in providing bus services from Bangkok to the northern region of Thailand such as Sukhothai, Nakhon Sawan, Phitsanulok and Uttaradit. All the coaches deployed by Sukhothai Win Tour Bangkok are fully equipped with air-conditioner, spacious seat, and adequate legroom to ensure their passengers can have a comfortable bus journey.
One of the popular bus routes provided by Sukhothai Win Tour Bangkok is bus from Bangkok to Sukhothai. The departure point in Bangkok is located at Mochit Bus Terminal 2 while the arrival point in Sukhothai is located at Sukhothai Bus Terminal. The bus fare from Bangkok to Sukhothai is charged at THB378 and THB435 for P1 bus type and VIP bus type respectively.
Are you planning to embark on an adventure trip to explore the Northern Thailand? Book Sukhothai Win Tour Bangkok ticket for bus from Bangkok to Sukhothai at BusOnlineTicket.co.th now. All the bookings made through BusOnlineTicket.co.th are instantly confirmed upon successful payment.