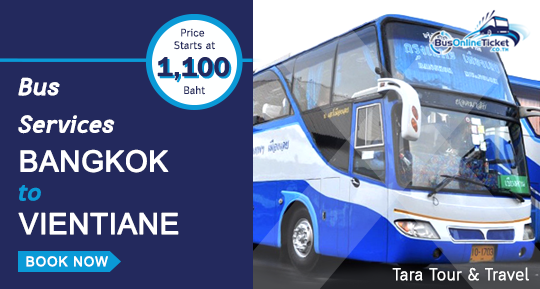 BusOnlineTicket.co.th
is extremely excited to welcome more trips from
Tara Tour & Travel
. New routes from Thailand to Laos are now available for online booking at our site! You can now easily book your bus from
Bangkok to Vang Vieng
and
Bangkok to Vientiane
. Moreover, they also have domestic bus transportation services from Bangkok to Chiang Mai, Mae Sot, Chiang Rai, Khao Lak, Hua Hin, Pattaya, Ayuthaya, Kanchanaburi and Sukhothai.
➥ Top Cities in Laos
Laos has a lot to offer especially if you are looking for traveling experience in Asia. The most popular attractions in Laos are Vientiane and Vang Vieng. Vientiane is both the capital and the largest city of Laos and located in the Central of the country, near the Mekong River. Vang Vieng or Guilin of Laos, it is about 160 kilometers away from Vientiane, this place is fascinating, and surrounded by the beauty of atmosphere, rivers, forests and mountains.
Laos brings together the best of Southeast Asia in one bite-sized destination for travellers who are looking to take it slow and enjoy a relaxing view of mountains and untamed natural beauty. A holiday in Laos is always full of surprises, spirituality, generous hospitality, and of course, breathtaking photo opportunities.
Route services from Bangkok to Laos:
Domestic bus services in Thailand:
➥ Ease Your Journey, Book Online!
If you are planning to travel to Laos and Thailand, book your tickets online to ensure a smooth journey. Get booking confirmation sent to your email within 24 hours when your book online at BusOnlineTicket.co.th now!