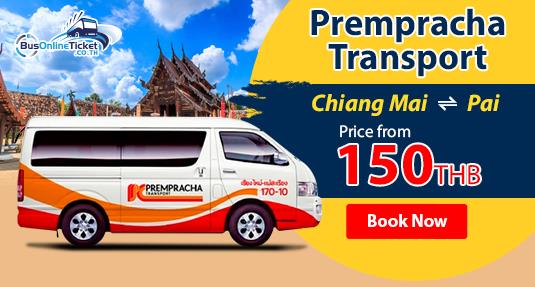 Let's Go On An Adventure With Prempracha Transport
If you are into a unique adventure experience and picturesque view, the road between Chiang Mai, Mae Hong Son and Pai→the famous Mae Hong Son loop, are perfect for you. Prempracha Transport offers transport service that connects these three locations for the convenience of the locals and even the tourists. Even better, Prempracha Transport has joined BusOnlineTicket.co.th to provide online booking for these routes!
Prempracha Transport is a leading transport operator preferred by the majority of the locals and the tourists. They have several departure times every day for all the routes that they offer. One of the famous routes is from Chiang Mai to Pai which takes around 3 hours and cost from 150THB. Passengers will board the minivan from Chiang Mai Bus Terminal 3 and the drop-off point will be at Pai Bus Station.
Going to Pai from Chiang Mai, you will get to see stunning view of the hill and mountainous area, the small villages and the breathtaking green field. The fresh air and the soft windy breeze. The serenity is definitely on another level, here! Moreover, Pai is known to be haven for the travellers and the backpackers who enjoy adventures, visiting and seeing the world. You will find Pai a great place to relax and clear your mind, away from the demanding, busy cities.
After Pai, go visit Mae Hong Son as well as Chiang Mai if you have not been there. There are so many things to see, to do, and you do not want to miss the beautiful sights that the Northern part of Thailand has to offer. Travel with Prempracha Transport for the best experience on your journey.
Book the tickets from BusOnlineTicket.co.th now!