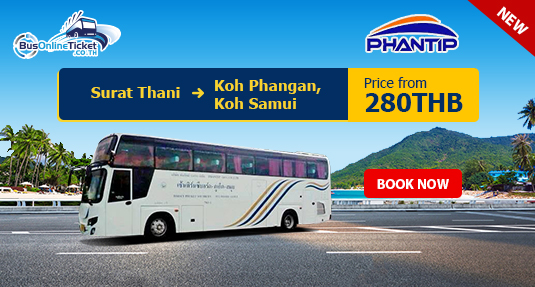 It's exciting to announce that Phantip Travel has joined BusOnlineTicket.co.th to provide their bus tickets booking online. Phantip Travel is one of the largest transportation operators in Southern Thailand which is based in Surat Thani town.
Choosing your ideal island escape in Thailand can be overwhelming as Thailand is home to hundreds of dreamy islands. In Thailand, tourists often start their island vacation with Koh Phangan, Koh Samui, Koh Tao, Krabi, Phuket, Koh Phi Phi, or Koh Lanta. These islands are dramatically beautiful, well-developed, and easily accessible for beach lovers, party-goers, and active adventurers in equal measure.
Phantip Travel offers unique and convenient Bus + Ferry service to connect tourists and travellers between Surat Thani town and the islands—Koh Phangan, Koh Samui, Koh Tao, Krabi, Phuket, Koh Phi Phi, and Koh Lanta. The Bus + Ferry service inclusive of bus service to the ferry terminal from Surat Thani and from there to take the ferry to the island destinations.
There are a number of flights and trains arrive in Surat Thani town each day. As for the passengers' convenience, Phantip Travel boarding point for bus in Surat Thani town is located either at Surat Thani Train Station or Surat Thani Airport. The fare for Bus + Ferry service is fair and reasonable. For example, Bus + Ferry service from Surat Thani Train Station to Koh Samui at price from THB350. The fare for Bus + Ferry service is various depends on the choice of pickup point.
Planning your next holiday to the island in Thailand? Grab your Bus + Ferry ticket now at BusOnlineTicket.co.th, making hopping to the islands simple and convenient. You can pre-book your ticket online and make your payment via secure online payment gateway to avoid queues and long wait times.
Anytime, anyplace, book with BusOnlineTicket.co.th. Don't forget to bring your swimsuit and a good mood!