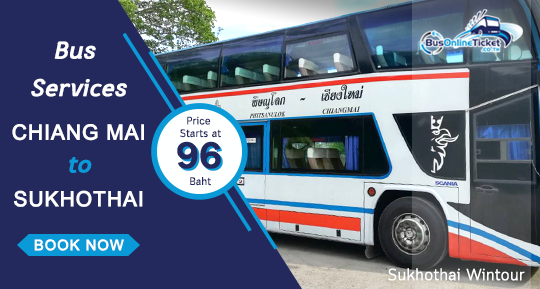 ➥ 

Chiang Mai to Sukhothai with Sukhothai Win Tour
Hello, all tourists. Today we have good news to announce that Sukhothai Win Tour has partnered with us to offer online ticket booking service on BusOnlineTicket.co.th. With this cooperation, we will facilitate booking ticket process for Chiang Mai to Sukhothai with Sukhothai Win Tour and give the excellent service to our valued customers.
Sukhothai Win Tour is the operator provides bus services from Chiang Mai to various provinces in the North of Thailand. Sukhothai Win Tour will support the needs of local passengers and tourists who wants to travel from Chiang Mai to Lampang, Tak, Sukhothai, Phitsanulok and Uttaradit. The pick-up point in Chiang Mai is at Chiang Mai Bus Terminal 2 (Arcade Bus Terminal), there are few drop-off points, passengers can choose drop-off point on the website.
One of the top bus route offered by Sukhothai Win Tour is Chiang Mai to Sukhothai. Many tourists take the service travel to Sukhothai after visiting Chiang Mai.
In addition, the fare is budget and reasonable with price starting from THB 96 to THB 381, depends on the type of bus. During the journey, passengers will receive food and snacks provided by the company.
The most popular bus services provided by Sukhothai Win Tour are as follow:
Chiang Mai to Lampang
Chiang Mai to Tak
Chiang Mai to Sukhothai
Chiang Mai to Phitsanulok
Chiang Mai to Uttaradit
➥ Ease Your Journey, Book Online!
Are you planning to touch the beauty of the city in Sukhothai with friends and family? You can plan and book bus ticket with Sukhothai Win Tour on BusOnlineTicket.co.th anywhere and anytime. What are you waiting for? Book bus ticket online to reserve a seat in advance!