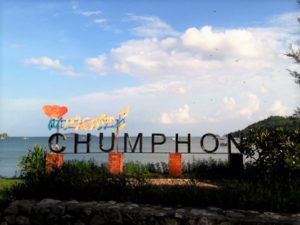 Having spent several miserable rainy days in Bangkok, we needed some sunny weather to brighten up our vacation. We decided to visit the province of Chumphon, and sink our toes in the soft sand at Pathio Beaches→ most famously known as Chumphon's Gold Coastâ.
The prospect of having fresh seafood prompted us to make the impromptu decision and we booked our bus tickets to Chumphon via BusOnlineTicket.co.th. Here's our travel experience with Alex Tour from Bangkok to Chumphon:
| | |
| --- | --- |
| i. | Book bus ticket online with BusOnlineTicket.co.th |
| ii. | Arrival at Southern Bangkok Bus Terminal |
| iii. | Check-in at Alex Tour counter |
| iv. | Board the bus heading to Chumphon |
Book bus ticket online with BusOnlineTicket.co.th

1.
We booked our Bangkok to Chumphon tickets for 260 THB per person with bus operator Alex Tour. The booking process was simple enough: search for the route you wish, select your trip, pay online, and receive your confirmation via email.

Arrival at Southern Bangkok Bus Terminal

2.
As our hotel was in central Bangkok, we took the BTS Skytrain to Victory Monument Station. From there, we took a taxi to go to Southern Bangkok Bus Terminal (Sai Tai Mai). Taxi from Victory Monument BTS Station to Sai Tai Mai Bus Terminal costs less than 200 THB.

Check-in at Alex Tour counter

3.
We headed to the 1st floor and looked for Counter 18, as per instructions given in our confirmation email. I presented the BOT reference number from my mobile phone to the counter staff, and he issued us the tickets to board the bus. I found out that one good thing about BusOnlineTicket.co.th is that online ticket prices are exactly the same as counter prices. This is very convenient as I do not have to make a trip to the bus terminal personally to get my bus tickets.
4.
As Alex Tour does not provide meals on board, we had fast food at KFC before boarding the bus. There are a variety of restaurants at the Southern Bangkok Bus Terminal, with a food court at the top floor. There are also shops selling books, clothes, bags, and many more. We also bought some snacks and drinks at the 7-eleven convenience store for our long journey ahead.
5.
It's about time to depart so we headed to Platform 12 to wait for the bus. There is a bag storage area just before reaching Alex Tour's bus platform. If you do not wish to bring too many things with you when you travel, you can store your bags with them for a small fee.
6.
There is a minimart next to the waiting area at Platform 12. You can purchase any last-minute items you may require here. The bus has arrived but we have to wait for the bus driver's instructions before boarding the bus.

Board the bus

7.
Once ready, passengers can load their bags into the luggage compartment. The bus driver and his staff will assist you with the loading. After that, we boarded the bus.
8.
There is a staff on-board to check your bus tickets and direct you to your assigned seats. He is very friendly and helpful→ we're truly in the Land of Smiles!
9.
The seats were clean and spacious enough for us. There is an overhead compartment to keep our small bags. While waiting for other passengers, the television at the front of the bus is turned on for our viewing pleasure. Once the bus left the terminal, the television was switched off.

Journey heading to Chumphon

10.
After half the journey has been completed, there was a 20 to 30 minutes' rest stop. You may choose to visit the restrooms during this time. In addition, you can also refill your snacks and drinks here as well.
11.
If you require a hot meal for your dinner, there are also food stalls at this rest stop, complete with a dining area. Meals are affordable here and do not cost more than 50 THB.
12.
The bus journey from Bangkok to Chumphon usually takes about 7-8 hours. However, there were road works along the highway where we travelled so we arrived 2 hours later than expected at Chumphon Bus Terminal.
13.
From Chumphon Bus Terminal, we took a taxi to go to our resort. Finally, we have arrived at our intended destination!