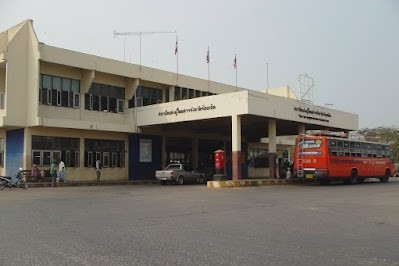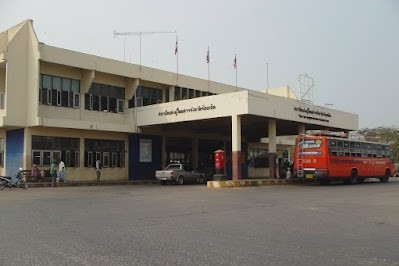 GENERAL INFORMATION
Roi Et features a number of impressive Buddha images and some spectacular festivals, including old fashioned rocket festivals in several towns across the province during the months of May and June. The province is famous for high-quality Thai jasmine rice planting and also known for traditional textiles and wickerwork. Roi Et town is built around a large artificial Lake, Bung Phlan Chai, where a large, walking Buddha stands on a small Island in its center. Tall Buddha images are popular in Roi Et, including the 68-meter tall walking Buddha at Wat Burapha Phiram, which has a staircase that enables visitors to climb to knee-high level. Those interested in Historical buildings will enjoy Ku Kasing, a large Khmer sanctuary dating from the 11th century that lies sixty kilometers outside of town. 
ARRIVAL AND DEPARTURES AT ROI ET BUS TERMINAL
Bus999, Porn Piriya Tour, Nakhonchai Air and Rungprasert Tour are a few bus operators serving bus from Bangkok to Roi Et. The bus ticket price from Bangkok to Roi Et is charged between the range of THB 429 to THB 452. The boarding point in Bangkok is located at Bangkok Morchit Bus Terminal and Nakhonchaiair Bus Station(Bangkok). Bus service remains the travelers' top choice to travel from Bangkok to Roi Et because bus tickets are much cheaper and the bus schedule is more flexible.
ADDRESS AND LOCATION OF ROI ET BUS TERMINAL
Roi Et Bus Terminal is located on 8/4, Bus Terminal, 2nd Floor, Tawapiban Road, Tambon Nai Mueang, Amphoe Mueang Roi Et, Roi Et, 45000, Thailand. The location of Roi Et Bus Terminal is:

HOW TO GET ROI ET BUS TERMINAL
Traveling in Roi et, there are bus services and minibuses (Songthaew), motorcycle taxis. and  Taxi meters starting at 30 baht per 2 km. and next 4 baht per every 1 km.
AMENITIES
Roi Et Bus Terminal is a small terminal not much wider of shops and restaurants you might need to buy food and drinks before you arrive at the bus station. The toilets at Roi Et Bus Terminal are located at the other end of the station. The sitting area is open-air and very comfortable. The toilet charges 3 baht.