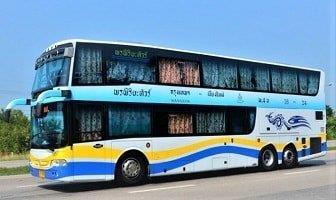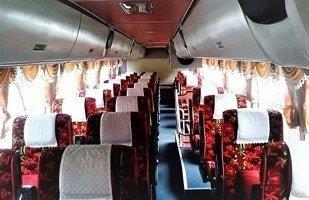 Porn Piriyah Tour is a local reputable bus company brand operating in the northern part of Thailand. Porn Piriyah Tour operates bus service between Bangkok, Chiang Mai, Lampang, and Phrae. This bus service is very convenient for those who wish to travel on these mentioned routes.
Porn Piriyah Tour operating a fleet of clean and comfortable buses such as 1st class air-conditioned bus, VIP bus with 28 seats and VIP bus with 32 seats. They also provide blanket, drinking water and bread for the customers during their bus journey with Porn Piriyah Tour. Food and washroom break will be given for the passengers during the journey.
The Porn Pririyah Tour main terminal for pick-up purpose is in Bangkok Bus Terminal (Mo Chit 2).
Routes available for Porn Piriyah Tour are as follow:
Bangkok to Phrae
Bangkok to Chiang Mai
Bangkok to Lampang
Check-in counters:
1. Drop-off Point Amphur Song Counter Porn Piriyah Tour
2. Bus Terminal Lamphang Counter Porn Piriyah Tour
3. Bus Terminal Chiang Mai(Akate) Counter Porn Piriyah Tour
4. Bus Terminal Phrae Counter Pornpiriya
5. Bus Terminal Bangkok (Mo Chit2) first Floor,Number A1 and 44
Porn Piriyah Tour Offices
Lamphang Office
94 Talat old Road,
Maung Lamphang,
Lamphang 52000.
Bangkok Office
Soi Viphawadee 62 ,
Viphawadee – Rangsit Road,
Bang khen, Lak si,
Bangkok 10210 Thailand.
Please Note: Changes to fares and time schedules are at the discretion of the bus/ferry operators.

Porn Piriya Tour Schedule and Tickets
| | | | |
| --- | --- | --- | --- |
| BANGKOK | | LAMPANG | |
| BANGKOK | | PHRAE | |
| PHRAE | | BANGKOK | |