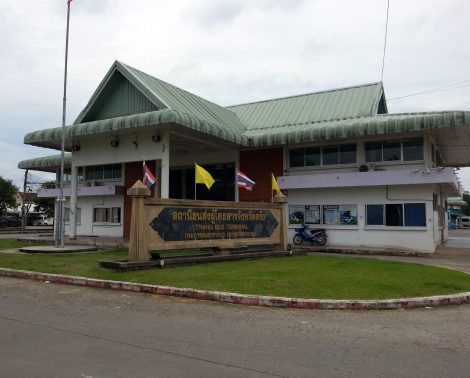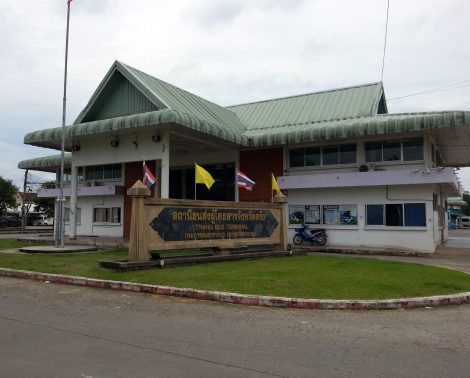 GENERAL INFORMATION
Trang is a province in southern Thailand on the coast of the Andaman Sea. The mainland coast is a stretch of rugged limestone cliffs, mangrove-lined beaches and remote caves. Trang is still a hidden gem among foreign travelers. Its serene beaches, sparkling blue sea and enchanting underwater world hold a lot of surprises, including extremely rare dugongs and underwater weddings. 
Trang is another province rich with famous local food even receiving the nickname "The Land of Food" such as Mu yang, also known as Mu han, which is a barbecue roasted piglet with crispy skin and Trang cake, also known as Kook Ming cake. These cakes were cooked by an authentic process by baking in the charcoal oven and have no frosting with several flavors like orange, coffee, pandan, three-flavored etc.
ARRIVAL AND DEPARTURES
Trang Bus Terminal is a medium sized bus station with a small range of services to destinations in the south of Thailand and Bangkok. Bus999 is the bus operator supplying buses from Bangkok to Trang. The bus service from Bangkok to Trang is only available in the evening and night session from 05:31 PM until 06:05 PM. The buses from Bangkok to Trang terminate at rang Bus Terminal. Besides Trang Bus Terminal, please note that there are several drop-off points in other districts for bus from Bangkok to Trang such as Thoong Yao, Su Lo, Wang Tong, Pa Lian, Yann Ta Khao, Ban Na and Huai Yot. Duration for bus from Bangkok to Trang takes about 12.5 hours.
ADDRESS AND LOCATION 
The location of Trang Bus Terminal is Thap Thiang, Mueang Trang District, Trang 92000, Thailand. The Trang Bus Terminal location is: 
HOW TO GET HERE
Trang Bus Terminal is located 3.6 km by road from Trang Railway Station in the centre of Trang town. Motorbike taxis and the famous local 'frog' style tuk tuks are available at Trang Bus Terminal. The normal rate for a motorbike taxi from Trang Bus Terminal to Trang town is 20 THB and 40 THB for a tuk tuk. Across from the main bus terminal in an adjacent lot is small minivan station with minivan services operating during the high season to Pak Meng, Had Yao. Koh Ngai, Koh Libong, Koh Mook and Koh Kradan.
AMENITIES
Trang Bus Terminal has a small range of amenities. There is a much wider range of shops and restaurants in Trang town itself and it's worth trying to buy anything you might need for your journey before you arrive at the bus station. The toilets at Trang Bus Terminal are located at the other end of the station to the main entrance and cost 3 THB charge for using the toilets. There are some small food stalls selling snacks and drinks located next to the toilets.