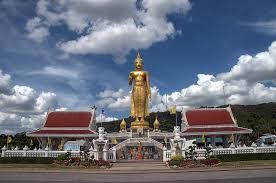 Hat Yai
Tourists to Thailand who are looking for interesting places should not miss a visit to the historic town of Hat Yai. It is located in southern most part of the nation, close to the Malaysian border. Regarded as the largest town within Songkhla province, Hat Yai is a popular holiday destination for people from Malaysia and Singapore.
Due to its close proximity to Songkhla city, Hat Yai is referred as its twin. Best way to travel around the city is on a Tuk-Tuk as the drivers can take to markets and also tourist destinations with ease. Read further for a quick reference guide about places of tourist interest and accommodations at Hat Yai.
Destination guide
As the center of business and communication of southern Thailand, Hat Yai is well-connected and hosts the Loykrathong festival or Lantern festival every year which brings in tourists from neighboring nations.
Wat Hat Yai Nai– This beautiful temple houses a reclining Buddha, which is the largest in Thailand and is the only temple without walls.
Night Bazaar – This mini version of Bangkok's Chatuchak market sells everything from food to books to local antiques and other memorabilia.
Ton Nga Chang Waterfall – Located 26 kms away from the center of Hat Yai city, the waterfall resembles elephant tusks as the cascading water is split into two giant streams of water at the center. This waterfall is a part of Ton Nga Chang Wildlife Sanctuary and is a popular picnic spot among locals.
Princess Maha Chakri Sirindhorn Natural History Museum – The three storied museum building is regarded as the best natural history museum in Malaysia and is a part of Songkla University. The museum has biological collection of 50,000 organisms' specimens.
Hotel guide
Buri Sriphu Boutique Hotel – Located away from the Sripoovanart Road, it provides serenity from central Hat Yai area and is the perfect choice for tourists seeking local flavor.
The Color Hotel – The three star hotel is located close to city center and shopping malls so you can walk over and purchase local stuff.
Hotel Red Planet РLike its name the d̩cor and furnishings of this comfortable two star hotel is tinged with red. Located in the heart of Hat Yai city, the hotel offers tour trips to local attractions along with spa facilities for tired travelers.
River Grand Hotel – Positioned at a vantage point overlooking the Toei River, the River Grand is a three star hotel with wood lined lobby and bar. Its proximity to Central Department Store and popular restaurants and bars in the area makes it a popular destination.
Bus guide
There are numbers of bus operators offering trips to Bangkok from Hat Yai bus terminus located near Diana Department Store by both private and public bus operators. You can select local buses for short distances which are color coded according to destinations. Long distance buses to Bangkok and other tourist destinations can be enjoyed in air conditioned sleeper and semi-sleeper buses.
Visitors can reach Hat Yai by following buses from other cities.
1) Siam Lane Tour (Bus from Bangkok to Hatyai)
2) Piya (Bus from Bangkok to Hatyai)
3) My Son Krabi Tours (Bus from Krabi to Hatyai)
To visit places around Hat Yai you can use the tuk tuk