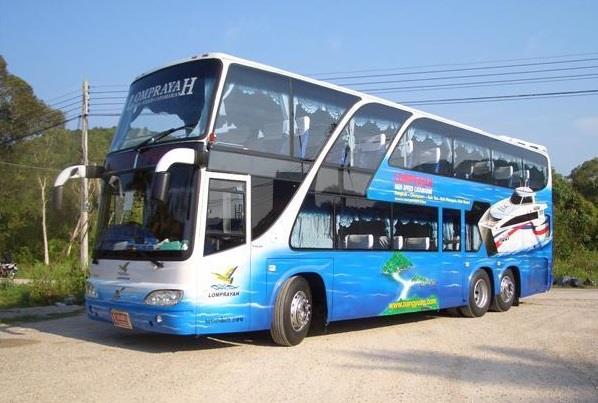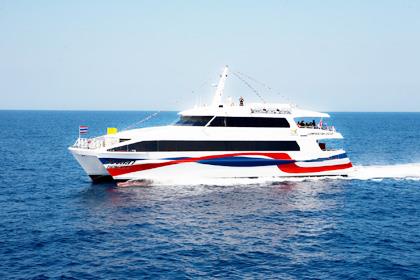 Lomprayah is one of the most reputable transport companies in Thailand, specializing in bus and ferry services to Koh Samui, Koh Tao and Koh Phangan in Southern Thailand, as well as ferry services between the three islands. They provide boarding services from Bangkok, Chumporn, Hua Hin, Phuket, and Krabi. At each boarding point, Lomprayah has a counter with check-in service to ensure passengers having good travelling experience with them.
Popular routes served by Lomprayah include the return service from Bangkok to Koh Samui, Bangkok to Koh Tao, Koh Samui to Phuket, Huahin to Koh Samui, and Bangkok to Koh Phangan. It is always crowded at their counters where people queuing for ticket of these routes, passengers are advise to book online to avoid the hassle and secure a seat in advance. Apart from that, another great advantage is that online selling price is cheaper than counter purchase price.
Lomprayah is the first and the only high-speed catamaran passenger ferry operation in Thailand, giving you a journey that is all about speed, style and service. They now have over numerous experienced and well-trained staff to service passengers with the safest and most comfortable journey. Besides, in order to meet the expectations of passengers, Lomprayah's dedicated management team has also been serving to their very best by providing our customers service of top quality. With vast of experience and excellent serving reputation in transport industry, Lomprayah is confident to continuously provide passengers the most reliable and best quality service during the journey.
The company operates bus services between:
Bangkok ↔ Koh Phangan
Bangkok ↔ Koh Samui
Bangkok ↔ Koh Tao
Hua hin ↔ Koh Phangan
Hua hin ↔ Koh Samui
Hua hin ↔ Koh Tao
Chumphon ↔ Koh Phangan
Chumphon ↔ Koh Samui
Chumphon ↔ Koh Tao
Krabi ↔ Koh Phangan
Krabi ↔ Koh Samui
Krabi ↔ Koh Tao
Phuket ↔ Koh Phangan
Phuket ↔ Koh Samui
Phuket ↔ Koh Tao
Headquarters
Lomprayah Office (Bangkok)
154/1 Rambuttri Road, Talat Yot,
Phra Nakhon, Bangkok, 10200
Please Note: Changes to fares and time schedules are at the discretion of the bus/ferry operators.

Lomprayah Schedule and Tickets
| | | | |
| --- | --- | --- | --- |
| BANGKOK | | KOH PHANGAN | |
| BANGKOK | | KOH TAO | |
| BANGKOK | | MAENAM PIER | |
| CHUMPHON | | KOH PHANGAN | |
| CHUMPHON | | KOH TAO | |
| CHUMPHON | | MAENAM PIER | |
| HUA HIN | | KOH PHANGAN | |
| HUA HIN | | KOH TAO | |
| HUA HIN | | MAENAM PIER | |
| KOH PHANGAN | | BANGKOK | |
| KOH PHANGAN | | CHUMPHON | |
| KOH PHANGAN | | HAT YAI | |
| KOH PHANGAN | | HUA HIN | |
| KOH PHANGAN | | KOH LANTA | |
| KOH PHANGAN | | KOH PHI PHI | |
| KOH PHANGAN | | KOH TAO | |
| KOH PHANGAN | | KRABI | |
| KOH PHANGAN | | NATHON PIER | |
| KOH PHANGAN | | PHUKET | |
| KOH PHANGAN | | SURAT THANI | |
| KOH TAO | | BANGKOK | |
| KOH TAO | | CHUMPHON | |
| KOH TAO | | HAT YAI | |
| KOH TAO | | HUA HIN | |
| KOH TAO | | KOH LANTA | |
| KOH TAO | | KOH PHANGAN | |
| KOH TAO | | KOH PHI PHI | |
| KOH TAO | | KRABI | |
| KOH TAO | | MAENAM PIER | |
| KOH TAO | | NATHON PIER | |
| KOH TAO | | PHUKET | |
| KOH TAO | | SURAT THANI | |
| KRABI | | KOH PHANGAN | |
| KRABI | | KOH TAO | |
| KRABI | | NATHON PIER | |
| MAENAM PIER | | BANGKOK | |
| MAENAM PIER | | CHUMPHON | |
| MAENAM PIER | | HUA HIN | |
| MAENAM PIER | | KOH PHANGAN | |
| MAENAM PIER | | KOH TAO | |
| NATHON PIER | | HAT YAI | |
| NATHON PIER | | KOH LANTA | |
| NATHON PIER | | KOH PHANGAN | |
| NATHON PIER | | KOH PHI PHI | |
| NATHON PIER | | KOH TAO | |
| NATHON PIER | | KRABI | |
| NATHON PIER | | PHUKET | |
| NATHON PIER | | SURAT THANI | |
| PHUKET | | KOH PHANGAN | |
| PHUKET | | KOH TAO | |
| PHUKET | | NATHON PIER | |