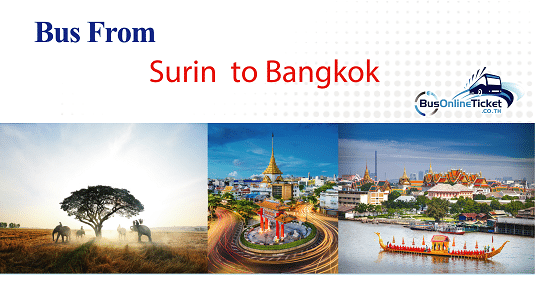 Check Bus from Surin to Bangkok Bus Schedule >>
Bangkok is ranked as the most visited city in the world. Bangkok is the capital city of Thailand. The popular places to visit in Bangkok are The Grand Palace, Wat Arun, Chatuchak Weekend Market, Asiatique The Riverfront, Maeklong Railway Market and many more.
How to Get from Surin to Bangkok
Bus from Surin to Bangkok is the easiest way to connect people between the north-eastern province and central of Thailand Bangkok. Locals depends on the budget transport to go Bangkok for working and further study. Budget backpackers take this service to go Bangkok.
How Long is the Journey to get from Surin to Bangkok
The duration from Surin to Bangkok takes about 6 hours. The travelling time from Surin to Bangkok is depending on the road traffic and weather conditions. At least one stopover will be given along the journey for passengers to ease themselves and have a quick bite.
How Far is Surin to Bangkok
The route distance is about 432km.
Bus Operator for Surin to Bangkok
999, Cherd Chai Korat, Nakhonchai Air and Sawasdee Surin are few bus operators offer bus from Surin to Bangkok. The coach is fully equipped with air-conditiong, spacious leg room and comfortable seat.
Their combined trips have totoal up to 18 daily trips from Surin to Bangkok. The first coach leaving the terminal at 07:00 while the last coach leaves the terminal at 22:15. Passengers are advised to bring jacket and blanket on board because the coach is cold for the overnight coach.
How much is the Bus Fare from Surin to Bangkok
The bus fare from Surin to Bangkok is in a range of THB329 to THB391.
Where is the Boarding Point in Surin
The boarding point in Surin either at Nakhonchaiair Bus Station(Surin) or Surin Bus Terminal depending on your choice of bus operator.
Where is the Arrival Point in Bangkok
The arrival point in Bangkok are Bangkok Bus Terminal (Chatuchak), Bangkok Bus Terminal (Mo Chit 2) and Nakhonchaiair Bus Station(Bangkok).
How do I Book Bus Service from Surin to Bangkok?

You can either visit the terminal and go the booth belonging to the bus operator of your choice, wait in line, select a seat, and book your ticket. If you would rather not do that, you can visit www.busonlineticket.co.th and book your seat within 5 minutes.
How can I make an online bus ticket booking in Thailand?

You can book a bus of your choice to any destination in Thailand by logging on to the official website of BusOnlineTicket which is https://www.busonlineticket.co.th/. The site is user-friendly and you can book your bus ticket in a matter of minutes.
Bus from Surin to Bangkok Bus Schedule