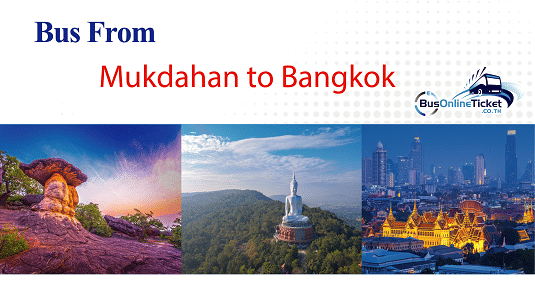 Check Bus from Mukdahan to Bangkok Bus Schedule >>
Bangkok is the most visited city in the world. Bangkok, as the capital city of Thailand, has become one of the popular tourist hotspot in the lower northern part of Thailand with a lot of interesting places waiting for travellers to explore. Bangkok is the home with many historical buildings, cultural places and shopping malls such as The Grand Palace, Wat Arun, Chatuchak Weekend Market, Siam Square and many more.
How to Get from Mukdahan to Bangkok
Bus from Mukdahan to Bangkok is one of the popular ways to travel between the two places. Even though taking flight is faster than bus, bus remain their first choice among the locals to travel from Mukdahan to Bangkok. That is because taking bus fare is more economical.
Besides locals, many tourists also prefer to take bus than flight because they get to enjoy the countryside sightseeing.
How Long is the Journey to get from Mukdahan to Bangkok
The duration required from Mukdahan to Bangkok is takes about 9 hours. The travelling time is depending on the road traffic and weather conditions.
How Far is Mukdahan to Bangkok
The route distance from Mukdahan to Bangkok is about 659.7km.
Bus Operator for Mukdahan to Bangkok
Sahaphan Roi Et Tour, Thaisanuan Tour, Bus 999 and Nakhon chai Air are few bus company offering bus service from Mukdahan to Bangkok. Both operators offer frequent daily departures from Mukdahan to Bangkok.
Please note that all bus services from Mukdahan to Bangkok are in the evening. The first bus service starts at 4:30pm while the last bus leave the bus terminal at 7:20pm. Passengers are required to bring along extra jacket because the temperature in the bus might be cooler at night.
How much is the Bus Fare from Mukdahan to Bangkok
The ticket price for bus from Mukdahan to Bangkok is charged in a range of THB500 to THB778.
Where is the Boarding Point in Mukdahan
The boarding point at Mukdahan is located at Mukdahan Bus Terminal.
Where is the Arrival Point in Bangkok
The drop off points in Bangkok are Bangkok Bus Terminal (Chatuchak), Bangkok Bus Terminal (Mo Chit 2), Nakhonchaiair Bus Station(Bangkok).
How do I Book Bus Service from Mukdahan to Bangkok?
You can either visit the terminal and go the booth belonging to the bus operator of your choice, wait in line, select a seat, and book your ticket. If you would rather not do that, you can visit www.busonlineticket.co.th and book your seat within 5 minutes.
How can I make an online bus ticket booking in Thailand?
You can book a bus of your choice to any destination in Thailand by logging on to the official website of BusOnlineTicket which is https://www.busonlineticket.co.th/. The site is user-friendly and you can book your bus ticket in a matter of minutes.
Bus from Mukdahan to Bangkok Bus Schedule