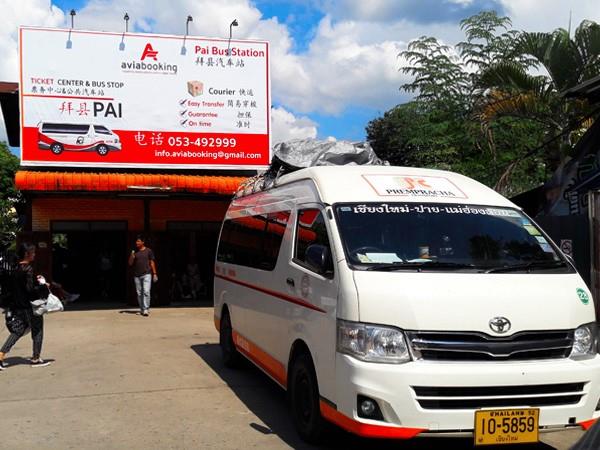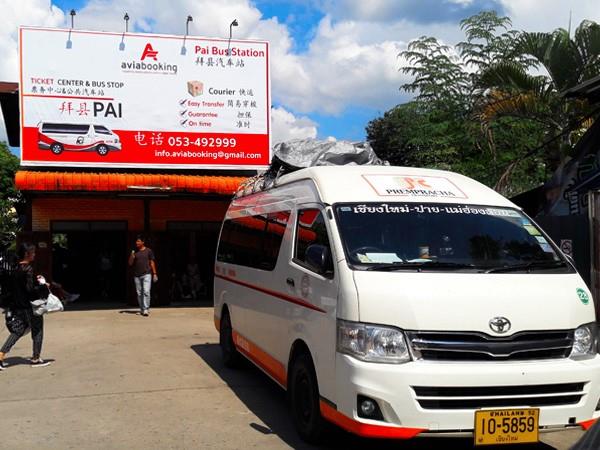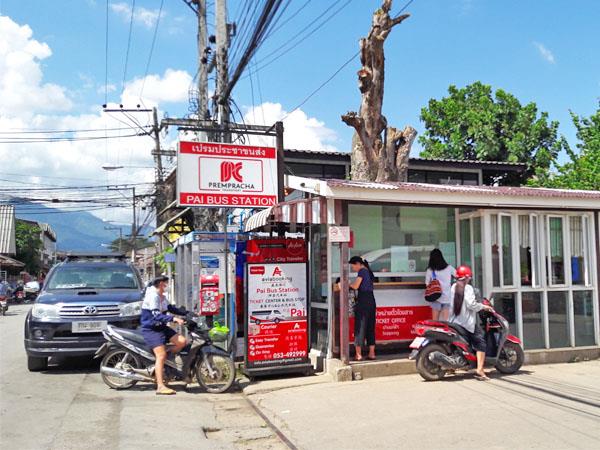 GENERAL INFORMATION
Pai is a popular destination for travelers as it is a small rural town Located in Northern Thailand, just three hours away from Chiang Mai. This location has a casual and relaxed vibe.
Pai Bus Station is a small station located in the center of town and the terminal for mini-buses that make regular trips from Pai to Chiang Mai and Chiang Mai to Pai.
ADDRESS AND LOCATION OF PAI BUS STATION 
The location of Pai Bus Station is in the Amphoe Wiang Tai, Pai District, Mae Hong Son  province, Thailand. When you reach the station, you will see a big white sign board with an orange sign at the Station. The Pai Bus address is:

TRANSPORTATION SERVICE IN PAI BUS STATION 
Prempracha Transport is the only licensed operator to offer minivan and bus from Chiang Mai to Pai.  This service is available daily and takes time around 3.5 hours by minibus. The buses have air-conditioning and stop once along the journey for a toilet stop. Mini-buses leave Pai around 8  times per day between roughly 6.30 a.m. – 4.30 p.m. Prempracha bus tickets are available online at BusOnlineTicket.co.th and you check Prempracha schedule, ticket price, and tickets availability from our website.
Apart from that, Prempracha Transport also offers minivan and bus from Pai to Mae Hong Son. Located around 110km away from Pai. It is a popular attraction spot especially for those coming from China, European countries and even among locals especially from Bangkok. Minivan tickets from Pai to Mae Hong Son are also available online.
Besides that, there are motorcycle taxis near Pai Bus Station that can bring you to your destination. The price starts from 20-800 THB depends on your destination.
GETTING TO PAI BUS STATION 
To go Pai Bus Station, you can hire a tuk tuk or motorbike taxi. Tuk tuk price ranges from 50THB to 100THB depends on your location and the distance to the bus terminal. Bargain for the price before you board. Songthaews are available and you can try and ask but they mostly go to the attraction points in Pai.
AMENITIES
In Pai Bus Station, you can find several ticket counters. Minimarts are available as well for you to buy some snacks before your departure. The toilets are available for free for passengers.