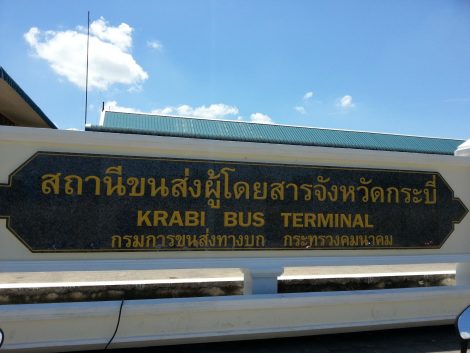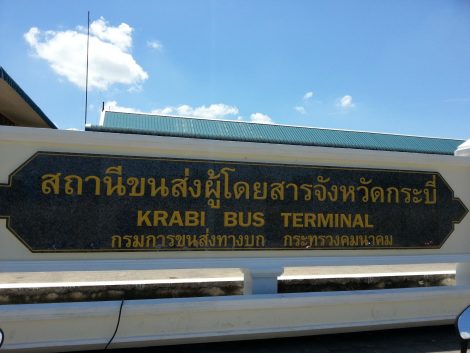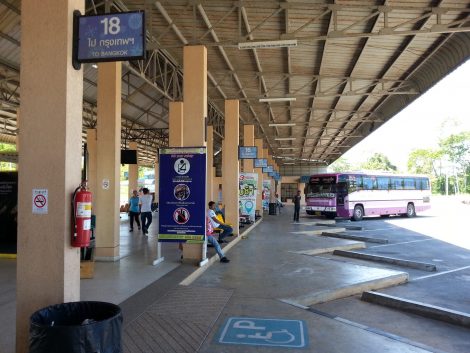 GENERAL INFORMATION
Krabi is the main town in the province of Krabi on the west coast of southern Thailand at the mouth of the Krabi River where it empties in Phang Nga Bay. Much of the province has been given over to several national parks. Top destinations are Hat Noppharat Thara – Mu Ko Phi Phi National Park, Ao Nang, Railay, and Ko Phi Phi. The province includes over 80 smaller islands such as Ko Lanta and Phi Phi, well-known to adventurers, yachtsmen, scuba-divers, snorkelers, and day-trippers from Phuket. Krabi's beaches attract both native Thai people and foreigners alike.
Krabi Bus Terminal is the main bus station in this part of Thailand, connecting Krabi Province with Bangkok and a range of destinations across Southern Thailand and a few long distance direct services to the North and North Eastern Regions of Thailand.
ARRIVAL AND DEPARTURES
Krabi Bus Terminal is an out of town bus terminal which serves as a transport hub for onward services to more popular destinations in Krabi Province such as Ao Nang and the islands of Koh Lanta, Koh Phi Phi, Koh Pu and Koh Jum via ferry terminals within the province.
For bus leaving Bangkok for Krabi in the evening, it will arrive at Krabi Bus Terminal early in the morning. Hence, evening bus schedule is actually an overnight bus. Many passengers prefer to take overnight bus because they do not waste their day time of doing nothing on the bus. The bus will have a few stops for food and toilet. Duration for bus from Bangkok to Krabi takes about 11 hours. Lignite Tour and Bus999 is the bus operator who provide the convenient online booking service for bus from Bangkok to Krabi.
ADDRESS AND LOCATION 
Krabi Bus Terminal is a medium sized bus station with an open air waiting area covered by a large roof. The station has 20 platforms each dedicated to specific destinations. The address of Krabi Bus Terminal is Pak Nam, Mueang Krabi District, Krabi 81000, Thailand. The location Bus Terminal location is:
HOW TO GET HERE
The two forms of local transport which are generally available at Krabi Bus Terminal are motorbike taxis and shared taxis. The standard fare for a motorbike taxi into Krabi Town is 60 THB. Motorbike taxi wait at motorbike taxi rank which is located between the bus terminal building and the public road, which is also where shared taxis arrive and depart.
Shared taxis from Krabi Bus Terminal run on a fixed route from the bus terminal into Krabi Town and then onto Ao Nang. Some of the shared taxi travel ferry pier such as Klong Jilard Pier (for Koh Phi Phi) and Ao Nammao Pier (for Railay). The fare in a shared taxi to Krabi Town is 40 THB, and the fare from Krabi Town to Ao Nang (or the ferry piers) is a further 60 THB per person. 
AMENITIES
Krabi Bus Terminal has a better than average range of facilities for a bus station in Thailand, which is good because the bus station is located in a small village with virtually no shops or restaurants nearby.
At the other end of Krabi Terminal to the ticket offices there is an indoor restaurant selling plates of rice and different stir fries or curries at a low fixed prices of 30 to 50 THB per plate. There are public toilets located inside the same building. At the same end of the station in between the two rows of bus platforms are some small shops selling snacks and drinks, and two vendors, one selling fruit and the other selling take away food items like fish balls on sticks and cooked sweetcorn.