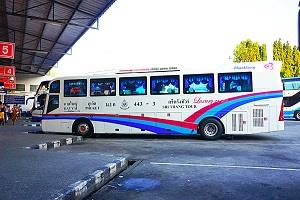 Sri Trang Tour is one of the well-known transportation companies based in Trang, also known as Mueang Thap Thiang which is the capital city of Trang Province, Thailand. After years of continuous improvement in their services quality, Sri Trang Tour has grown to become one of the popular transport companies in Thailand.
Sri Trang Tour services cover routes between Hat Yai, Phuket, Narathiwat, Songkhla and Trang. The buses operated by Sri Trang Tour have many facilities including the free WiFi, air-conditioner, spacious legroom and the reclining sofa seats to ensure passengers can have a comfortable journey. Passengers are advised to bring a jacket along for the journey especially if you are taking a night bus as it might get colder at night.
During the bus journey with Sri Trang Tour transport, they will provide the passengers with some beverage and snack. Moreover, a short toilet break will be given as well so passengers can get down from the bus for refreshments. Most importantly, all the drivers from Sri Trang Tour are well-trained with years of driving experiences and the buses are always in a good condition.
You can book your Sri Trang Tour bus tickets online at BusOnlineTicket.co.th where you can access all the information about the bus services.
Sri Trang Tour operates the bus services between:
Hat Yai ↔ Phuket
Phuket ↔ Narathiwat
Phuket ↔ Songkhla
Songkhla ↔ Trang
Hat Yai ↔ Trang
Trang ↔ Phuket
Main Bus Terminal
Hat Yai Bus Terminal
Thung Sao 2 Soi 12 Road,
Hat Yai, Songkhla, 90110
Sri Trang Tour Schedule and Tickets

Please Note: Changes to fares and time schedules are at the discretion of the bus/ferry operators.