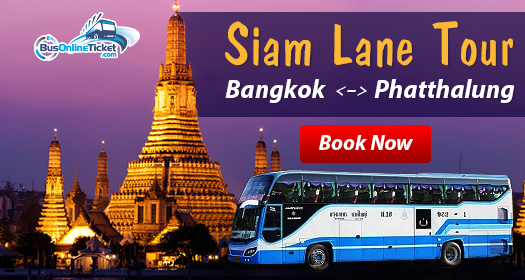 BusOnlineTicket is proud to announce the availability of
Siam Lane Tour (Siam Dernrod)
bus tickets for online booking. Currently, Siam Lane Tour (Siam Dernrod) operates at the
Southern Bangkok Bus Terminal
, or also known as Sai Tai Mai (previously known as Sai Mai Tai Taling Chan Bus Station), which means the New South Line. The name was given due to the fact that the original bus station was situated at another location just a few kilometers away.  Because that the Siam Lane Tour (Siam Dernrod) is stationed at this terminal, it provides an added advantage for passengers since the Southern Bangkok Bus Terminal is also known as a famous shopping spot.
Siam Lane Tour (Siam Dernrod) offers a number of daily scheduled trips between Bangkok and Phatthalung. The pick-up points for the route is as follows:
Southern Bangkok Bus Terminal
Phatthalung Bus Terminal
Phatthalung is situated between Trang, Hat Yai and Nakhon Si Thammarat. The Phatthalung Bus Terminal is connected to Thailand's Southern railway, giving better connectivity for the passengers to get around the city. There are also several ATMs with a number of food vendors around the bus terminal as conveniences for the passengers and visitors of the terminal. Even though there are a number of ticket offices at the terminal, passengers are advised to make an advanced booking of tickets, especially for Siam Lane Tour (Siam Dernrod).
Also, the Siam Lane Tour (Siam Dernrod) is an air-conditioned bus so passengers can be comfortable throughout the whole journey. And since the buses being used are compliant to safety regulations, passengers can be rest assured that their safety is one of the top priorities, along with delivering a fast and friendly service.
With that being said, passengers can now enjoy the convenience of booking the Siam Lane Tour (Siam Dernrod) bus tickets via online. Get your tickets today!