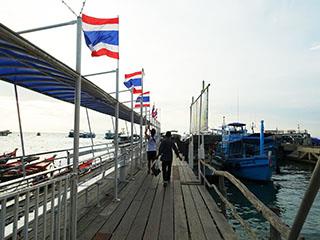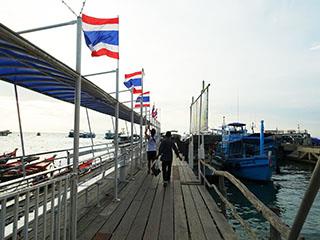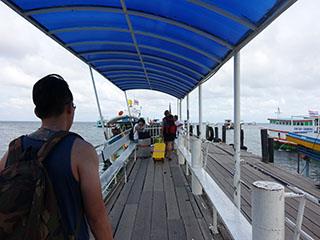 GENERAL INFORMATION
Mae Haad Pier is the main ferry hub in Koh Tao. Travellers from Surat Thani, Chumphon and Bangkok use the ferry to go to Mae Haad Pier because of the beautiful attractions at Koh Tao. After visiting Koh Tao, those who want to go back to Surat Thani, Chumphon and Bangkok have to take ferry from Mae Haad Pier.
Mae Haad Pier is located in Koh Tao, which is in Surat Thani Province. Koh Tao is one of the famous islands in Thailand. During high season, Mae Haad Pier is one of the busiest piers and usually crowded with tourists.
Koh Tao is especially well-known for scuba diving, snorkeling, hiking and bouldering. Moreover, the beautiful natural collection of rocks, surrounded by the mountains and forest views attract visitors to come to Mae Haad Pier to visit interesting places in Koh Tao. Some of the nearby interesting places that receive most visitors are Sai Nuan Beach, Sairee Beach and Chalok Baan Khao.
DEPARTURE AND ARRIVAL
For passengers who booked their ferry tickets online and want to check in at Mae Haad Pier to go back to Bangkok, Surat Thani or Chumphon, they can go to the counter to exchange the printed voucher to the actual ferry ticket. The staffs will give a coloured-sticker to each passenger, sometimes in different colour. The function of different colour is to identify the drop-off point for each passenger. With this sticker, the staffs can easily arrange the passengers based on their drop-off point.
Before boarding, you have to wait at the gate until the boat arrives. When the ferry arrived at the pier, the staffs will assist you to board the ferry. They will help you to store your luggage in the luggage compartment. However, you can still bring your backpacks and luggage with you. The sitting arrangement in the ferry is free seating. You can choose any seat that suits you.
Meanwhile, for passengers who just arrived at Mae Haad Pier can take the taxi or tuk tuk. Some of the operators also offer a drop off service for their passengers to the hotel. Please check with your operator to confirm.
HOW TO GET TO MAE HAAD PIER?
Travellers can go to Koh Tao from Chumphon by taking the Lomprayah High Speed Ferry, which will takes about 2 hours to Koh Tao. The ferry will extend the journey till Koh Phangan and Koh Samui. Travellers who wish to go to Koh Tao can drop off at Mae Haad Pier once arrived. There is a sitting area for travellers to wait for the taxis at Mae Haad Pier.
Check the schedule for ferry ticket from Chumphon to Koh Tao.
From Bangkok, you can book the Lomprayah tickets which include bus and ferry tickets to reach Koh Tao. You can book the bus and ferry tickets at BusOnlineTicket.co.th. The estimated time for the journey is about 11.8 hours. The bus from Bangkok will stop at Chumphon pier first and passengers will have to change to Catamaran High Speed Ferry to get to Mae Haad Pier, Koh Tao.
Check the schedule for bus and ferry tickets from Bangkok to Koh Tao.
You can also come by bus and ferry from Surat Thani. It may take about 5.8 hours to reach Koh Tao. You can book just the ferry tickets from Donsak Pier to Koh Tao or you can book a bus + ferry tickets with pick-up point either from Surat Thani Airport or Surat Thani Train Station.
Check the schedule for bus and ferry tickets from Surat Thani to Koh Tao.
AMENITIES
At Mae Haad Pier, you do not have to worry about the transportation and accommodation. There are a lot of hotels nearby the pier. You also can take tuk tuk or taxi that usually wait for the passengers at the pier to go to the next destination.
There are many restaurants and cafe around the pier where you can enjoy some coffee and relax while waiting for your ferry to arrive. Travellers can sit at the spacious waiting area while enjoying the mountain views before boarding.
The ticket counters are easy to find and the staffs will assist your needs regarding your tickets. In Mae Haad Pier, there are several grocery stores where you can buy foods and drinks for your journey.
TIPS
The best way to save your time and cost is by booking your bus and ferry and tickets online in advance from BusOnlineTicket.co.th. With the various easy payment methods, your tickets and seat are secured and you no longer have to go to the counter and risk the ticket being sold out.
LOCATION OF MAE HAAD PIER, KOH TAO
The address of Mae Haad Pier: Ko Tao, Ko Pha-ngan District, Surat Thani 84280, Thailand