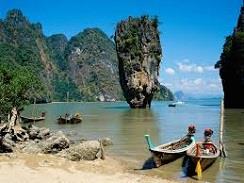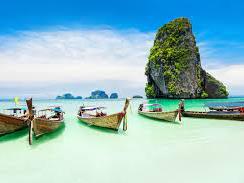 Phuket
Phuket has Thailand's most popular beaches and is referred to as 'Pearl of Andaman' and is the largest of the nation's islands. This mountainous island is 540 kms wide and is crowded with tourists throughout the year that arrive at its international airport and also the local tourists that come via trains and buses to enjoy the city's nightlife.
Here are a few places of interest you can enjoy in Phuket and accommodation choices you can use.
Destination guide
Koh Maphrao – Located two kilometers from the coast of Phuket, the area comprises of three islands overlooking the Laemhin pier on the east coast and is ideal for swimming.
Wat Chaitararam – This historic temple of Buddha, also venerates holy warrior monk, Luang Por Cham who helped villagers defeat Chinese Secret Society and is expected to cure people of sicknesses.
Phang Nga Bay – Boat ride through these majestic cliffs jutting out from emerald waters of the Arabian Sea offer tourists vistas that will remain embedded forever in their minds. Do not miss a visit to the Koh Panyee village in this area which is entirely built up on water over stilts and has a single giant rock guarding the rear.
Big Buddha on Nakkerd Hills – This 45 meters high, monolithic statue of Buddha is designed out of Burmese marble. It overlooks Chalong, Kata and Rawai beaches is reachable by a wide road from center of Phuket.
Sirinart National Park – This beautiful natural sanctuary is made of pine wood, white sand and majestic coral reefs, which is the natural habitat of sand crabs, sea turtles and rare sea anemones.
Hotel guide
Phuket offers the finest accommodations in Thailand in the form of hotels with spas along with homestays and budget hotels.
Trisara Phuket Villas and Residence – Luxury pool suites are set across 40 acres of landscaped grounds that rise from the sea and afford breathtaking view of the sea.
Point Yamu by Como – This tranquil property located 30 minutes from international airport of Phuket is surrounded by farmlands and serene fishing villages. Designed in contemporary style, the hotel offers both rooms and private luxury villas.
Amarai Phuket – This four star accommodation is located towards southern Patong and faces the Andaman Sea. Nestled among the hills, the property straddles a slope jutting out to the sea and offers multi-cuisine restaurants along with scuba diving facilities and spa.
BYD Lofts and Service Apartments – Ideally suited for the budget traveler, the hotel is located on Patong beach in Phuket which is counted among top party destinations in Asia.
Bus guide
There are numbers of bus operators offering trips from Phuket to other tourist destinations in Thailand out of Phuket Bus Station. The terminal also has supermarket where you can purchase food and water for the journey ahead while waiting for your bus. Some of the bus services include:
– Phuket Travel (Bus from Phuket to Bangkok)
– Sri Trang (Bus from Phuket to Hatyai)
– Chaokoh Travel Center (Bus from Phuket to Krabi)