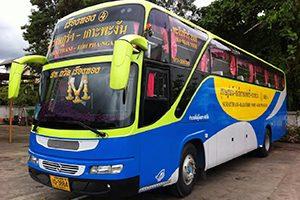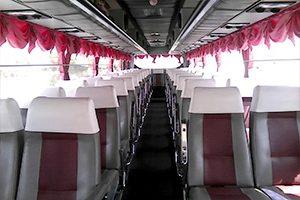 Phangan Tour 2000 is a bus company based in the province of Surat Thani. This company serves the Surat Thani to Koh Phangan route, and the Surat Thani to Koh Samui route. For return trip, services include from Koh Phangan to Surat Thani Town, Koh Phangan to Surat Thani Train Station, and Koh Phangan to Surat Thani Airport. Buses are air-conditioned, with about 44 to 48 seats onboard.
The bus journey from Surat Thani Town to Don Sak Pier will take about 1.5 hours. The ferry journey will take 2.5 hours to reach Koh Phangan, while the journey to Koh Samui takes 1.5 hours. In total, the travelling time from Surat Thani Town to Koh Phangan is 4 hours, while the travelling time from Surat Thani Town to Koh Samui is 3 hours. The Surat Thani Railway Station→ Koh Phangan route will take 4 hours 30 minutes, while the Surat Thani Aiport→ Koh Phangan route will take 4 hours 45 minutes.
Should you require taxi transfer services from Thong Sala Pier in Koh Phangan to your resort, you may also approach the staff at the ticket office for further assistance. Arrangements can be made to ensure that you can reach your destination comfortably.
Apart from this bus + ferry combo service, Phangan Tour 2000 also has 13-seater minivans and 9-seater VIP minivans available for charter, should customers prefer a more private travelling experience. Tickets are also available for tourists who wish to visit Krabi, Phuket, Hat Yai, and Ranong.
In addition, Phangan Tour 2000 sells various items at their ticket office, which you may require during your journey. These include food and snacks, medication for motion sickness and sea sickness, fever medicine, and many others. The ticket office also offers a spacious seating area, and clean and hygienic restrooms, for passengers waiting for their bus.
Passengers who require to catch their flight at Surat Thani Aiport the next day may be interested to know that Phangan Tour 2000 also has a guesthouse next to their ticket office in Surat Thani town. If you are taking the 07:50 Nok Air flight or the 08:40 Air Asia flight, you will not be in time for your flight if you travel on the same day. This is because the first Phangan Tour 2000 departure will only arrive at Surat Thani Airport at 09:45. As such, customers may wish to consider returning from Koh Phangan one day in advance and spend a night with Phangan Tour 2000's guesthouse, before continuing on their journey to Surat Thani Airport.
Koh Phangan is a favourite destination among tourists due to its famous Full Moon Party and its world-renowned Half Moon Party. During these festival periods, tourists are highly encouraged to book their tickets early to avoid disappointment!
Headquarters
Phangan Tour 2000 Office
412/3-4 Talad Mai Road 27, Tambon Talat
Amphoe Mueang, Surat Thani, 84000
Phangan Tour 2000 Schedule and Tickets

Please Note: Changes to fares and time schedules are at the discretion of the bus/ferry operators.